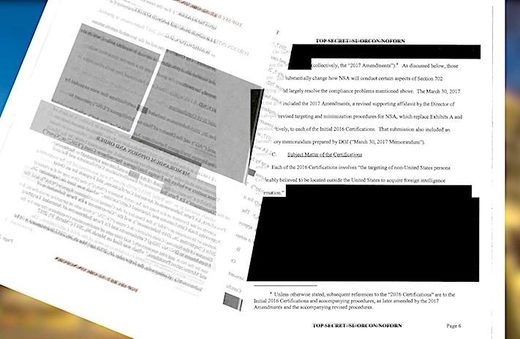 The FBI has illegally shared raw intelligence about Americans with unauthorized third parties and violated other constitutional privacy protections, according to newly
declassified government documents
that undercut the bureau's public assurances about how carefully it handles warrantless spy data to avoid abuses or leaks.
In his final congressional testimony before he was fired by President Trump this month, then-FBI Director James Comey unequivocally told lawmakers
his agency used sensitive espionage data gathered about Americans without a warrant only when it was "lawfully collected, carefully overseen and checked."
Once-top secret U.S. intelligence community memos reviewed by Circa tell a different story, citing instances of "disregard" for rules, inadequate training and "deficient" oversight and even one case of deliberately sharing spy data with a forbidden party.
For instance,
a ruling declassified this month
by the Foreign Intelligence Surveillance Court (FISA) chronicles
nearly 10 pages listing hundreds of violations of the FBI's privacy-protecting minimization rules that occurred on Comey's watch.
The behavior the FBI admitted to a FISA judge just last month ranged from illegally sharing raw intelligence with unauthorized third parties to accessing intercepted attorney-client privileged communications without proper oversight the bureau promised was in place years ago. The court also opined aloud that it fears the violations are more extensive than already disclosed.
"The Court is nonetheless concerned about the FBI's apparent disregard of minimization rules and whether the FBI is engaging in similar disclosures of raw Section 702 information that have not been reported," the April 2017 ruling declared.
The court isn't the only oversight body to disclose recent concerns that the FBI's voluntary system for policing its behavior and self-disclosing mistakes hasn't been working.
The Justice Department inspector general's office declassified a report in 2015 that reveals the internal watchdog had concerns as early as 2012 t
hat the FBI was submitting 'deficient" reports indicating it had a clean record complying with spy data gathered on Americans without a warrant.
The FBI normally is forbidden from surveilling an American without a warrant.
But Section 702 of the Foreign Surveillance Act, last updated by Congress in 2008, allowed the NSA to share with the FBI spy data collected without a warrant that includes the communications of Americans with "foreign targets."
But the FISA court watchdogs suggest FBI compliance problems began months after Section 702 was implemented.
The FBI's very first compliance report in 2009 declared it had not found any instances in which agents accessed NSA intercepts supposedly gathered overseas about an American who in fact was on U.S. soil.
But the IG said it reviewed the same data and easily found evidence that the FBI accessed NSA data gathered on a person who likely was in the United States, making it illegal to review without a warrant. "We found several instances in which the FBI acquired communications on the same day that the NSA determined through analysis of intercepted communications that the person was in the United States," the declassified report revealed. It called the FBI's first oversight report "deficient" and urged better oversight.
FBI officials acknowledged there have been violations but insist they are a small percentage of the total counterterrorism and counterintelligence work its agents perform. Almost all are unintentional human errors by good-intentioned agents and analysts under enormous pressure to stop the next major terror attack, the officials said.
Others fear these blunders call into the question the bureau's rosy assessment that it can still police itself when it comes to protecting Americans' privacy 17 years after the war on terror began.
That doubt, heaviest among civil libertarian Democrats but also growing among Republicans, is particularly sensitive because the law that allows the bureau to access warrantless spy data about Americans - Section 702 of the Foreign Intelligence Surveillance Act - is up for renewal later this year.
Lawmakers in both parties and both chambers of Congress are writing reforms behind closed door, leaving the intelligence community anxious it might lose some of the spy powers it considers essential to fighting terrorism, cyber attacks and unlawful foreign influence.
"No one on the Hill wants to look like we are soft on terrorism when you have increasing threats like Manchester-style attacks.
But the evidence of abuse or sloppiness and the unending leaks of sensitive intelligence in the last year has emboldened enough of us to pursue some reforms,"
a senior congressional aide told Circa, speaking only on condition of anonymity because he wasn't authorized to talk to the media. "Where that new line between privacy and security is drawn will depend on how many more shoes fall before the 702 renewal happens."
Rep. Trent Frank, R-Ariz., a member of the House Judiciary Committee that will help craft the 702 renewal legislation, said the rising revelation of problems about improper spying on Americans are having an effect on lawmakers who have long supported the intelligence community. "The bottom line is the law has to be followed and when it isn't there has to be consequence that is of significance so that it deters others from breaking the same law," he told Circa.
One of the biggest concerns involves so-called backdoor searches in which the FBI can mine NSA intercept data for information that may have been incidentally collected about an American. No warrant or court approval is required, and the FBI insists these searches are one of the most essential tools in combating terrorist plots.
But a respected former Justice Department national security prosecutor questions if the searching has gotten too cavalier. Amy Jeffress, the former top security adviser to former Attorney General Eric Holder, was appointed by the intelligence court in 2015 to give an
independent assessment
of the FBI's record of compliance.