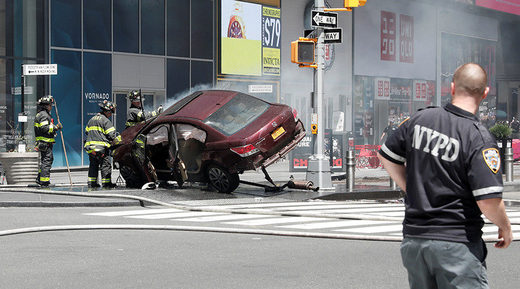 New York City Police have declared a "mass casualty incident" after a speeding car drove onto the sidewalk in Times Square, killing one and injuring at least a dozen people. The incident does
not seem to be a terrorist attack,
police said.
Seven people were loaded onto stretchers, while one person has died, a witness told Reuters. The New York Fire Department said that one person was killed and 19 others were injured in a
"motor vehicle incident."
Comment:
Update 19 May
Footage of the incident has been posted on Facebook:
That does
not
look like someone fleeing a robbery. It looks more like someone who just snapped.
The car reportedly drove the wrong way up 7th Avenue, crossed onto the sidewalk and hit at least 13 people. It eventually crashed into metal barriers at the corner of 7th Avenue and 45th Street.
Video and photos from the scene show dark red vehicle tilted to its side against a barrier, surrounded by firefighters. Another video shows a man being led away by NYPD officers.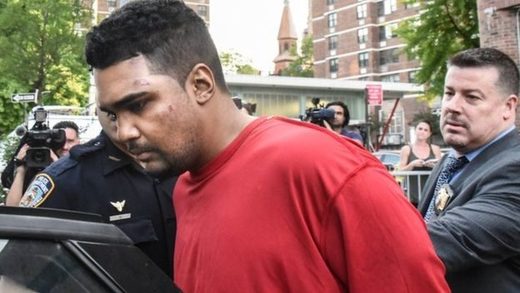 WCBS-TV has identified the suspect as a 26-year-old male resident of The Bronx with
two previous drunk-driving convictions.
The
New York Post
gives the suspect's name as Richard Rojas. The crash took place as
Rojas was fleeing from the police after a robbery
, according to Fox News.

Comment: Really? Says who? The video shows no police cars chasing this car.


The incident is
not being treated as a terrorist attack at this time
, according to NYPD.

Comment: How could they immediately know this wasn't a terror attack, when similar recent incidents in Stockholm, Berlin London were all 'confirmed terror attacks' within hours of the events?


An injured pedestrian told Reuters that
the driver's actions appeared
"intentional."
According to a witness, the vehicle drove against traffic and into the sidewalk, where it struck pedestrians.
Police have cordoned off the intersection of 45th Street and Broadway, as they investigate the incident. New York Governor Andrew Cuomo is on the site.