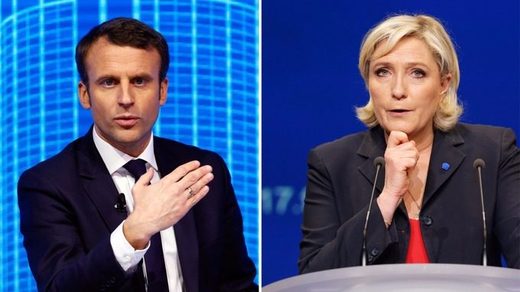 The far-right National Front attacked presidential front-runner Emmanuel Macron as a "candidate of oligarchs" and banking lobbies, who parties with show-business celebrities, as it sought to portray Marine Le Pen as more in touch with the French people.
The morning after the election-night parties, the National Front was eager to underscore the differences between long-time opposition politician Le Pen and political newcomer Macron, a former investment banker and economy minister.
Macron had 23.8 percent in the
first round
and Le Pen had 21.5 percent, according to results from the Interior Ministry with 97.4 percent of votes counted.
"We are in almost perfect opposition on all points," Florian Philippot, the party's vice-president, told France 2 television on Monday.
With both establishment parties knocked out of the race after Sunday's first round, anti-euro Le Pen and independent Macron have two weeks to secure a majority in the May 7 runoff.
The next round will present their starkly
different visions
, with Macron representing a France that has thrived on its openness to the world and Le Pen speaking for those who have been hurt by it.
"Macron's biggest weaknesses are his lack of experience and that for many voters he is the candidate of the France which succeeds, for whom globalization has worked," said Yves-Marie Cann, a pollster at Elabe. "So he is not necessarily the one who can defend working-class and other people who have been hit by globalization."
The candidate of the newly created On the Move party would defeat Le Pen in the runoff by 61 percent of the vote to 39 percent, according to a daily rolling poll released by OpinionWay on Monday.
'Showbiz Friends'
Philippot compared a dinner Macron had at
La Rotonde
restaurant, in the former bohemian district of Montparnasse, on Sunday evening with the election night party ex-President Nicolas Sarkozy held at a chic venue on the Champs-Elysees in 2007, which earned him a "bling-bling president" label.
"Macron was there with all his showbiz friends," Philippot said. "He is way too arrogant and sure of himself."
The independent candidate's speech on Sunday night was "as if his media and banking lobbies have already decided the election," the National Front official added in a separate interview on RMC radio.
Even before Philippot's criticism, Macron had dismissed any comparison with Sarkozy's party.
"If you haven't understood that I had the pleasure this evening of inviting my secretaries, my security officers, the politicians, the writers, the women and men who have accompanied me since the first day of this campaign, then you haven't understood anything about life," he told reporters as he emerged from the restaurant.
Meanwhile, Philippot urged supporters of Communist-backed Jean-Luc Melenchon, who ranked fourth, to rally behind Le Pen: "Do you think they want a total deregulation of the economy? Do you think they want to go any further in this banking and financial European Union?"
Macron's Dig
Other National Front members were also quick to attack Macron, who has been the most pro-EU candidate in the race.
"Macron's tactic is to recycle all the same people that have betrayed France for the past decades," Sebastien Chenus, a party member, said on BFM TV. "We'll see the truth in this second round."
Macron made no direct response to the attacks on Monday from Le Pen's camp. He posted two tweets calling on his supporters "to transform France" and saying: "I am counting on you and on your even greater mobilization" in the runoff.
In his speech on Sunday evening, Macron said he hoped to become "the president of all the French people, of the patriots in the face of the nationalist threat" -- a clear dig at Le Pen.
Mainstream Parties
The rejection of the two main parties by French voters reflected the anger coursing through a society traumatized by Islamist terrorism and buffeted by years of sub-par economic growth and high unemployment.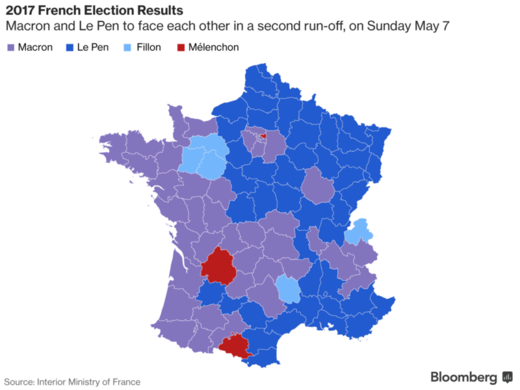 First-round failures must now flag to their supporters who -- if any of the two -- they will rally behind. The Republicans of third-placed Francois Fillon and the Socialist Party leaders behind fifth-placed Benoit Hamon were meeting on Monday after both candidates quickly endorsed Macron the previous evening. Melenchon has yet to endorse a second-round candidate.
"The French have booted out the old Republican front with rare violence," Le Pen said Monday, alluding to the mainstream alliance against her party. "It's trying to coalesce around Macron. I'd be tempted to say that's just as well." A vote for Macron, she added, is a return to the old establishment.
Le Pen Campaigning
On the first day of campaigning for the decisive round, Le Pen was quicker off the mark. She made a short morning tour of a market in the small northern town of Rouvroy, close to her stronghold of Henin-Beaumont where she held her election-night party.
The choice of Rouvroy was no coincidence: Le Pen, who scored 42.7 percent in the town, is trying to woo voters of Melenchon, who secured 27.9 percent of the ballots there. Macron got just 12.3 percent.
Meanwhile,
Le Pen faces a struggle to keep her own party in line, with internal dissent over her opposition to the euro -- more than two-thirds of voters want to keep the single currency -- and the strategy she should adopt for the runoff.
"For Marine Le Pen, the mistake would be to try to seduce both Fillon's voters and those of Melenchon," Jean-Francois Touze, a former close ally of Le Pen's father Jean-Marie, said in a post on Twitter. "The only winning strategy is to stick to the right."