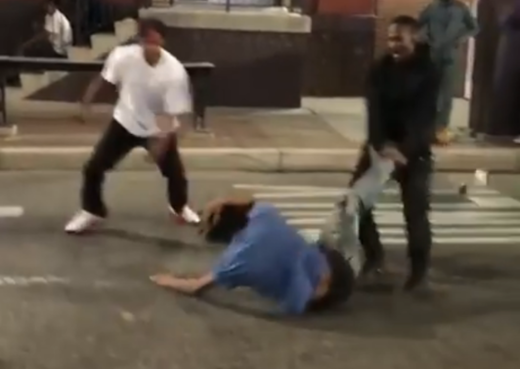 The caption says simply: "This happened in Downtown Detroit last night."
And then starts a video that shows about 25-40 men punching, kicking and brutally beating people on the streets of Greektown, one of Detroit's most popular hotspots. In the video, one man is lying with his head over the curb appearing unconscious and very badly injured. He gets punched and kicked as the cell-phone filming crowd of young men shouts and laughs.
Quickly becoming known as the Greektown brawl — the Saturday night fight was caught on video that was posted to Facebook.
By the time the police in Detroit were alerted to what was happening it was already over, they said. "
All those people were out there with their cellphones, and instead of calling the police, they video it for Facebook," Chief James Craig told the Detroit News. "This is extremely disturbing."
Investigators have identified the victim in the street, who is now at an area hospital. They're working to identify the suspects from the video.
The family of the man seen with his head on the curb told myfoxdetroit.com he was at the casino celebrating his birthday when he was attacked. He is recovering from a skull fracture and other injuries, they said.
It's unknown what caused the melee or if the young men knew each other or if one group was randomly attacking strangers.
If anyone recognizes anyone in the video or has any information pertaining to this crime please call the Detroit Police Department at 313-596-1616, 313-596-1855, 313-596-2260 or CRIMESTOPPERS at 1-800-SPEAK-UP. Citizens can remain anonymous, as always by leaving a tip on our app, DPD Connect.