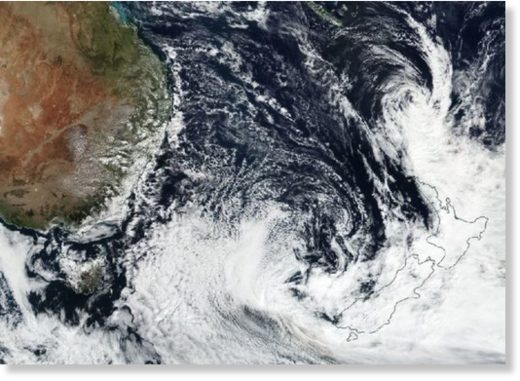 Auckland residents told to cancel Easter plans as the cyclone heads directly for the flood-stricken Bay of Plenty region
Cyclone Cook is bearing down on New Zealand and is expected to make landfall on Thursday evening, heading directly for the flood-stricken Bay of Plenty region devastated by last week's Cyclone Debbie.
Two states of emergency have been declared in the North Island east coast districts of Bay of Plenty and Thames-Coromandel, with more districts expected to make that call mid-afternoon when the ferocity of the storm becomes clear.
MetService - whose website crashed on Thursday because of heavy traffic -
has warned the approaching storm system is expected to be the worst New Zealand has seen in decades
, with forecasters comparing it to 1968's Cyclone Giselle, which sunk the Wahine ferry, killing 52 people.
MetService meteorologist Lisa Murray said she was concerned New Zealanders weren't taking the storm threat seriously enough and the approaching cyclone was the worst weather event she had seen in her 12 years as a forecaster.
"This is not an event to be taken lightly. Prepare for loss of power and isolation due to road closures," she said in a video shared by thousands on social media.
Heavy downpours, gale force winds of 150 kph and storm surges up to five metres are predicted to batter the east coast, where the town of Edgecumbe remains under-water, its 2,000 residents staying with extended family and in maraes and evacuation centres, unable to return to their flooded homes.
Evacuations of low-lying areas on the east coast of the North Island are under way, with power outages, fallen trees and roofs lifting off homes possible, according to the MetService, as well as widespread and "significant" flooding across the entire North Island.
Civil Defence has pleaded with New Zealanders to take the storm "seriously", prepare emergency supplies for three days and "not take any chances".
Aucklanders are being advised to cancel their Easter holiday plans and hunker down at home until the storm passes, with Auckland Transport asking people who work in the central city to stay home today, and Auckland University closing at 11am.
The Auckland Harbour Bridge may close if wind gusts increase, and ferries across the harbour are expected to be cancelled.
Volunteers and emergency responders have been working all week to prepare relief supplies for people in the eye of the approaching storm, with significant donations of meat, dry goods and animal feed flowing to the Bay of Plenty from around the North Island, as it braces for its second major weather event in a week.
A month's worth of rain is expected to fall in the space of a day on the east coast, with the ground already sodden and covered in up to a metre of mud and debris.
Landslides have closed access to the Far North district, with many more slips reported and uncleared around the North Island. The New Zealand Transport Authority has asked Kiwis to cancel all non-essential travel and avoid driving if at all possible.
Air New Zealand has said major disruptions and delays are expected to all its services country-wide.
Landslides, flooding and possible evacuations are also expected in some parts of the east coast of the south island, although they will be less severe than in the North Island.
Dunedin city council has asked anyone living in low-lying areas to door-knock on their neighbours to check if they are OK, and to sandbag or self-evacuate if they are concerned about flooding risks.