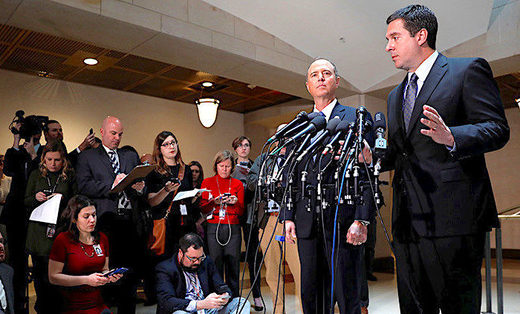 House Intelligence Committee Chair Devin Nunes reiterated that
"no evidence of collusion" between Donald Trump's team and Russia has been found
ahead of the first public hearing on the matter. The Republican told Fox News Sunday that
the leaking of former Trump aide General Michael Flynn's name to the media is "the one crime we know that's been committed."
He added that the Congressional panel, which is investigating accusations of Russia's interference in the 2016 US election, was also investigating whether the names of other Trump aides were leaked to the press. Nunes, who has previously
stated
that
no evidence
of Trump-Russia collusion has been identified by the committee, confirmed
this was still the case
going into the
first public hearing on Monday of the investigation into "Russian active measures."
FBI Director James Comey and NSA Director Mike Rogers are both scheduled to testify at the hearing.
The committee chair also addressed
Trump's recent allegation that his predecessor, Barack Obama, wiretapped Trump Tower
just before the Republican's election victory in November, with Nunes stating that
no evidence of this has been found, either.
Nunes noted that, as far as he is aware,
there was no FISA warrant issued for this purpose.
Obama has denied the allegation, though
the White House called on Congress to investigate the alleged abuse of executive power.