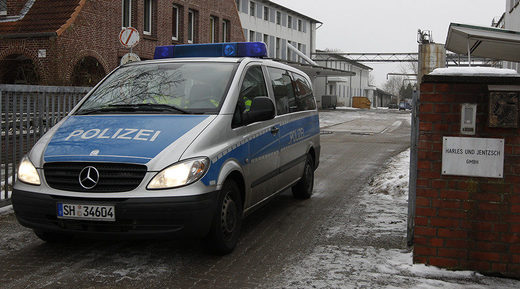 German police have detained a young man after finding chemicals used for making explosives in his apartment. The suspect admitted that he planned a bomb attack on police officers or soldiers, prosecutors and police said in a joint statement.
A German citizen, 26, whose name has not been revealed yet, was detained on Wednesday in the German town of Northeim, in the northwestern state of Lower Saxony.
He is suspected of preparing to commit a "grave violent offense against the state" and of attempted murder
, the statement issued by the regional police department in Goettingen and the regional Prosecutor General's Office in Celle
says
.
Earlier, police raided his home and found various chemicals used to make explosives based on acetone peroxide - a highly explosive agent, which is difficult to detect and which was earlier used in a number of terrorist attacks across Europe, including the Brussels attacks in 2016.
The police officers also discovered "components that could be used for assembling an unconventional explosive device," the statement said, adding that the details found in the suspects apartment particularly included "electrical components of a time fuse."
According to the investigators, the suspect was actively preparing for a terrorist attack when he was captured. They also managed to find out that he was a member of a Salafist group - an ultra-conservative Islamist movement.
During his first questioning, the suspect admitted his guilt and said that he was planning to "lure police officers or soldiers in a trap and kill them with a homemade bomb."
The investigators have not revealed any further details about this case and have said that they are "at the very beginning" of the inquiry.
They also stressed that it is too early to speak about any possible accomplices of the suspect or about his potential ties with any known terrorist groups or links to any similar incidents.
Both police and the Prosecutor General's Office called the operation "a great success in the fight against terrorism."
"Police have acted professionally and consistently here and all necessary measures were taken in a timely fashion," Uwe Luehrig, the head of the Goettingen police department, said in the statement, adding that police will use all available legal means to counter the terrorist threat.
About 700 members of Salafist groups live in Germany's state of Lower Saxony alone, German media report, citing data provided by the regional office of the German domestic security service, the BfV.
Some 77 of them have traveled to Syria and Iraq, the intelligence data says, adding that about 50 of them are regarded as posing "an acute threat" to the German security and are subjects to "increased surveillance."
Two weeks ago, police detained two men suspected of terrorism in Goettingen. The investigators found combat weapons, ammunition, data storage devices and Islamic State (IS, former ISIS/ISIL) flags in their apartment during the raid. One of the suspects was an Algerian, 27, while the second one was a Nigerian, 22.
The Regional Interior Ministry initiated deportation for both suspects but they legally challenged this decision, German media report. Their cases were eventually handed over to the Federal Administrative Court in Leipzig.
In the meantime, the BfV once again warned that Islamist terrorists pose a significant threat to Germany. Hans-Georg Maassen, the head of the BfV, said this week that his service receives from two to four tips relating to some potentially dangerous acts a day.
He also added that the number of potential terrorists and their supporters has recently reached 1,600 people.