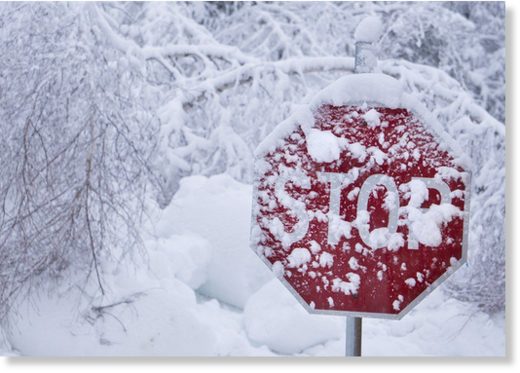 The most snow fell in York County, where the National Weather Service reported 18 inches in Sanford and nearly 17 in Limington
It's time to dig out. Again.
A winter storm that blew into Maine Wednesday delivered
another foot of snow on some areas that were buried under nearly 2 feet of snow on Monday. The heavy snow downed tree limbs and power lines overnight, knocking out electricity to thousands of homes.
The storm brought heavy rain to Portland and coastal communities for most of the day Wednesday while burying inland areas under a blanket of wet, heavy snow. The most snow fell in York County, where the National Weather Service reported 18 inches in Sanford and nearly 17 inches in Limington. Coastal areas saw far less snow, including in Scarborough where 3.4 inches of snow fell once the rain turned to snow overnight.
The National Weather Service said Mainers should expect slippery roads during the morning commute before snow ends by mid-morning.
The heavy snowfall contributed to power outages in inland towns, mostly in Cumberland and York counties.
More than 15,400 Central Maine Power Co. customers remained without power
mid-morning Thursday, with 9,688 of those outages reported in Cumberland County, including 1,868 in Gorham, 1,699 in Gray and 1,374 in Windham. York County had 4,960 reported outages, including 1,194 in Buxton and 1,288 in Hollis. Several York County fire departments posted messages to residents on Facebook early Thursday warning them of downed limbs and power lines. In Buxton, the fire rescue department said crews are out checking on trees that have fallen and responding to reports of low hanging or downed wires.
"Trees and limbs are breaking under the weight of the snow. The wires that we've seen taken down tonight have been quickly buried in the snow making them almost impossible to see,"
the Waterboro Fire Department posted on Facebook. "If you power is out, make sure your wires are still up before venturing out to clean up this lovely mess."
The speed limit is reduced to 45 mph for the entire length of the Maine Turnpike. The Maine Turnpike Authority reported multiple accidents and cars off the road Wednesday night. Tractor-trailers crashed early Thursday in Gray and Kittery but were cleared from the roadway before 7 a.m.
The snow led to a number of school cancellations and delays Thursday. A complete list of closing and delays is available here.
Many communities declared parking bans during the storm. Portland declared an overnight parking ban Wednesday 10 p.m. to 6 a.m. Thursday.
Jessica Grondin, the city's spokeswoman, said the city declared the ban because many streets - especially those in the West End and East End neighborhoods - were still too narrow because of plowed snow from previous storms and could block emergency vehicles.
With the large amount of snow that has fallen this week, public safety officials are worried about roofs collapsing.
Roby Fecteau, director of the city of Biddeford's emergency management office, urged homeowners to remove excess snow. He recommends that property owners use a roof rake or hire a contractor.
"It is never recommended to remove snow by standing on the roof itself," Fecteau said in a news release. He recommends getting a written estimate and checking references before hiring a contractor.
At 7:30 a.m., the National Weather Service said 11 inches of snow had fallen in Gray, 16.3 inches in Bridgton, 8 inches in Cumberland Center, 6 inches in Freeport, 13 inches in Oxford and 2.5 inches in Waterville. The highest totals were in York County: 16.6 inches in Steep Falls, 14 inches in Newfield, 12.6 inches in Hollis, 12 inches in Alfred and 8 inches in Kennebunk.
John Jensenius, a weather service meteorologist, said the high temperatures Thursday will be right around freezing at the coast and in the 20s inland, but will continue to climb throughout the weekend. By Sunday, temperatures could reach the mid-40s at the coast and upper 30s inland, he said.
"It should melt everything that's on the road," he said.