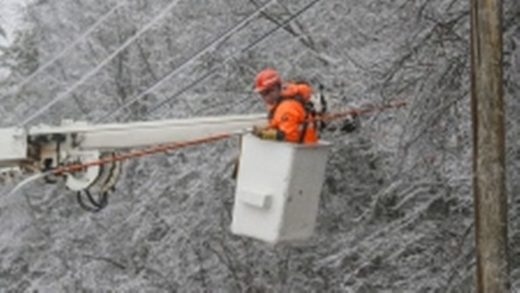 The images are strikingly beautiful: crystalline layers of ice coating trees, homes and power lines. But for the more than 61,000 households are still without power in New Brunswick, this week's ice storm has been a cold and dark nightmare.
"Right now, our priority is making sure that everybody is safe," New Brunswick Premier Brian Gallant told CTV Atlantic from a recently-opened warming centre in the province. "Everybody knows exactly what they can do to stay safe, and of course that we get everybody their electricity as quickly as possible."
The ice storm that swept through the province began on Tuesday, with some of the heaviest freezing rain and ice hitting New Brunswick's Acadian Peninsula Wednesday night.
On New Brunswick's frozen streets, broken branches dangle from powerlines, ice-heavy trees have fallen and split, and in some cases, the weight of the accumulated ice has been enough to snap wooden hydro poles. In affected areas, falling tree limbs and ice has created a steady percussive cacophony.
At the peak of the storm, more than 133,000 households were without power in the province. Crews have been toiling non-stop to get people back on the grid, but the work is so complex that NB Power says that they can't guarantee a restoration time at this point. More than half of affected households -- particularly those in Moncton and the Acadian Peninsula -- are still in the dark. NB Power is urging customers to remain patient.
In addition to 271 crews from NB Power, help is also coming from Maine, Quebec and Nova Scotia.
"Once we get there, we'll meet up with the supervisor from the team from that area and he'll give us further direction," Nova Scotia Power field supervisor Bruce Allen told CTV Atlantic as a convoy of 11 trucks headed towards the ice-caked city of Miramichi.
With widespread power outages, warming centres have been opened across the province and will keep their doors open as long as people are still without electricity.
Tired of bundling up at home, Amy Mather and her young son checked into one on Thursday.
"He's sick, so I don't want him to get any worse," Mather told CTV Atlantic.
At one warming centre, a Syrian refugee family were also among the dozens of people who showed up to escape the cold.
"This is their first winter," the family's sponsor, Wayne Mullin, told CTV Atlantic. "They arrived in February and the weather, as you recall last winter, was quite good and so they really didn't get a true taste of winter -- and they're getting it now."
In Moncton, the local YMCA also invited in those affected by the storm.
"We opened up our doors and we said anybody that's in a situation that they have no electricity and no hot water to come down to the Y," YMCA of Greater Moncton CEO Zane Korytko told CTV Atlantic. "They can warm up, they can come and take a hot shower and they can have a cup of coffee or tea, all on us."
Authorities are warning people to be aware of falling ice and reminding residents of affected areas to avoid standing under telephone wires or trees. NB Power is also warning people to stay away from downed hydro lines.
With files from CTV Atlantic