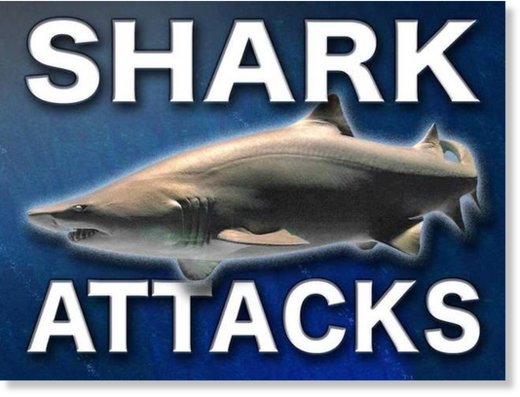 A teenage surfer was in stable condition after he was bitten by a shark Monday at the same Australian beach where a Japanese surfer was fatally mauled last year, officials said.
Cooper Allen, a 17-year-old high school student, was surfing with friends on the first day of the students' spring vacation when he was attacked off Ballina's Lighthouse Beach at midmorning, Ballina Mayor David Wright said.
The shark struck from behind and bit across the board's fins as the boy lay on the board paddling. The shark's lower jaw tore into the fiberglass as its upper teeth clamped his right hip and thigh, Wright said.
"The shark lacerated his leg in three or four places fairly deep," Wright said. "Luckily the lifeguards were on duty and got down there quickly."
"He should be OK. It was very close to his artery," Wright added.
Cooper, a Ballina resident, was taken by ambulance to Lismore Base Hospital, where he was in a stable condition, emergency services said.
Police Detective Chief Inspector Cameron Lindsay said teeth marks on the board suggested a great white shark between 2.5 and 3 meter (8 to 10 feet) long. Police also said a 4-meter (13-foot) great white was spotted off Lighthouse Beach later in the morning.
In February last year, Japanese tourist Tadashi Nakahara, 41, died after losing both his legs to a great white 3 to 4 meters (10 to 13 feet) long while surfing at Lighthouse Beach.