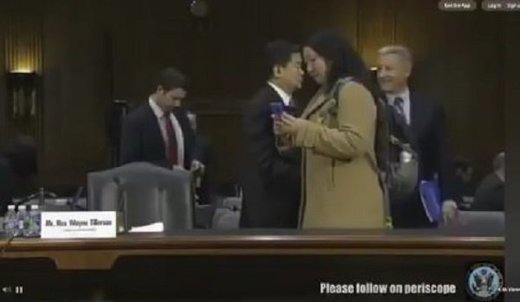 The Liberal Media Becomes More Unhinged by the Day.
A reporter was caught on film sneaking photos of Secretary of State nominee
Rex Tillerson's
personal notes at his hearing today before the Senate Foreign Affairs Committee today in Washington DC.
The reporter obviously forgot about the cameras running on Tillerson's seat during the break.
Now the entire world knows she's a thief. What an idiot.
The Washington Post
says the reporter
is not
Doris Truong
, their homepage editor.
Via
Mike Cernovich
:
It is not clear at this point who the reporter was but she was friendly with the men in the video.
Please email us if you recognize the woman.
We are still working on identifying the reporter.


It is interesting how her fellow reporters have so far circled the wagons to protect her identity.