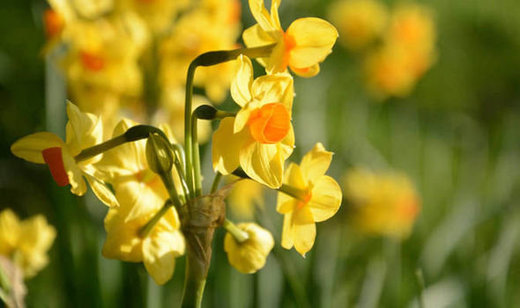 Photographer Ian Scammell, 41, spotted them as he drove to a friend's house on New Year's Eve.
About 30 of the early bloomers are clustered on a grassy bank by a road in Ramsgate, Kent.
The flowers, which do not usually start appearing until February
, have been fooled into blooming a month early by this winter's unusually mild weather in the South.
Ian, 41, of Whitstable, Kent, said: "I was amazed to see daffodils this early - I had to do a double take as it is very unusual to see them at this time of the year.
"I've never seen them in December. February is the earliest I've noticed them."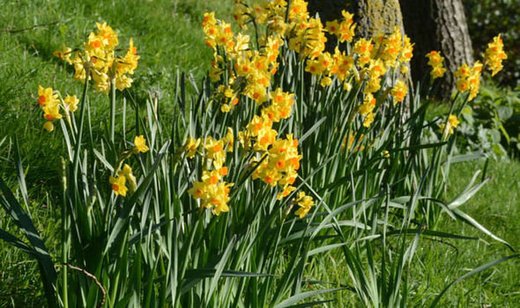 However, the mild weather has come to an abrupt end with the beginning of the New Year.
A Government Level 2 cold alert remains in place until tomorrow afternoon, warning of an increased risk to the elderly and vulnerable.
The photographer snapped the surprising shot after spotting the flowers on New Year's Eve
The Met Office last night issued a severe weather warning for ice in the North and Scotland with rain expected to freeze overnight.
James Madden, forecaster for Exacta Weather, said:

"January is likely to be much colder than average for the time of the year."
Comment:
Meanwhile in India:
Rhododendrons bloom early

Rhododendrons (called Burans) blooming in low-lying forest areas have surprised experts but they have come as a boon for children who are making full use of their school winter vacation by collecting flowers and selling them to tourists on roadside near Kempty.

Karan, 12, a student of Government School, near Happy Valley, is elated at the early blooming of rhododendrons this year. He wakes up early in the morning without having to worry about attending the school and goes to the forest to collect rhododendron flowers. He sells the flowers to tourists for Rs 30 to earn pocket money.

This year, Karan and his friends are able to collect a large number of flowers and sell these at a nominal price to tourists.

Rhododendrons bloom around February and March

but this year they have bloomed quite early to the delight of all schoolkids. In March and April they have to worry about their studies as their schools remain open and they collect less number of flowers. This year, rhododendrons have bloomed in January and they can devote more time in collecting and selling these to tourists, adds Karan. "We wish that the flowers bloom in January when we have school vacation," says Karan's schoolmates accompanying him.

Agriculture and forest expert Kundan Singh Panwar says climate change can be one of the reasons for the early bloom of rhododendron flowers this year. Trees such as apple and apricot shedding leaves during the winter and experiencing flowering early can be attributed to climatic change, as for the past four months the area has not witnessed rains and the temperatures have been comparatively higher in December and January. This premature flowering is not good for the flower as the dry conditions will lead to less juice content. The absence of snowfall this year so far will also affect the flowering process, says Panwar.

Tehri Garhwal District Horticulture Officer Amar Singh says branches that matured but did not flower last year have bloomed much early in January this year due to the temperature suitable for their growth. The Horticulture Department has set up food processing centres in the district where people can process juice of rhododendron flowers, which is said to be good for curing heart ailments. Rhododendron is also the state tree of Uttarakhand and contains several medicinal qualities, he adds.