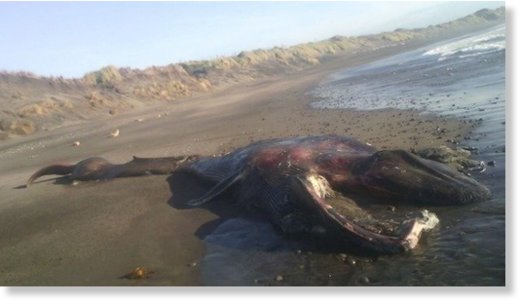 A 14 metre whale has washed up on a South Taranaki beach.
Department of Conservation duty ranger Nathan Jones said he was called to a remote beach near Rahotu on Monday evening and said he suspected the dead mammal was a blue pygmy whale.
"The cause of death is unknown at this stage but it has probably been dead several weeks judging by the state of decay," he said.
"If it was on a more public beach we might have to cut it into pieces and get a digger involved, but because it's quite isolated we can just let nature take its course."
The whale was still at the beach on Wednesday evening and Jones asked the public to stay away from it if they saw it.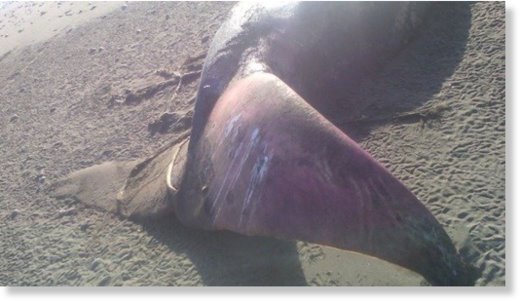 Rahotu man Carl Linnell discovered the dead sea creature at the end of lower Kahui Rd about 5pm on Tuesday.
He described the whale as 10 to 15 metres long and thought it was either a sperm whale or humpback.
"It's hard to tell exactly what kind it is because it's upside down," Linnell said.
It looks like it's been there for a few days."
"There were other people around taking pictures and leaving," he said.
"Things wash up here all the time."
He said he has discovered a washed up sea turtle on the same beach.
Forest and Bird's marine conservation ambassador and leading marine mammal expert Anton van Helden said from the photos Linnell took he was fairly certain it was a blue pygmy whale.
"It's hard to tell, but if it has nodules on its flippers then it could be a humpback," he said.
As for what could have caused its death van Helden said a number of things could have contributed.
"We know there's been seismic testing in that area in the last few weeks and it has been known to affect marine mammals," he said.
"It can affect their behaviour in terms of breeding or eating patterns.
"But at the same time it could just as easily have been hit by a boat or died of natural causes."
This is the third dead whale to wash up on a Taranaki beach this year, after a fin whale came ashore near Opunake in July and an orca stranded itself in Patea in March.
However, Project Hotspot - a group that collects information about rare animal sightings - coordinator Emily Roberts said while many people would be curious to see the whale they would be crossing dotterel nesting grounds at this time of year.
"New Zealand and banded dotterel are both endangered are nesting above the high tide mark at the moment," she said.
"While it's tempting to want to have a look it's important people don't disturb the birds."