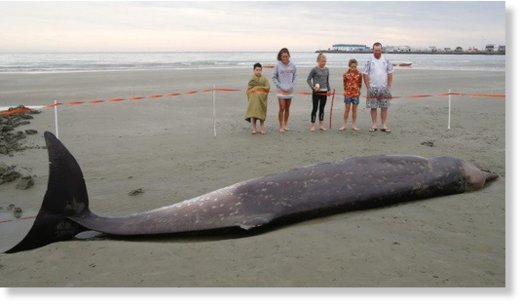 A Timaru volunteer is "gutted" after trying to help save a whale beached in Caroline Bay.
It follows an incident involving a Gray's beaked whale which beached itself on Boxing Day at about 7.30pm. Despite multiple attempts by locals, the whale died later that night.
Department of Conservation (DOC) crews spent Tuesday morning co-ordinating its removal from the popular summer beach.
For trained marine medic Donna McPherson, of Timaru, it was her first real-life whale stranding since she received training in April.
"It certainly will be forever in my memory."
She first received a call-out at about 8.30pm on Monday.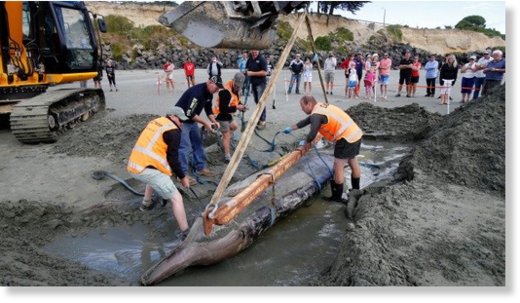 McPherson is one of four people in the Timaru area which represented Project Jonah, a volunteer organisation which helps rescue stranded marine mammals.
She, and two other men were in the water and tried to keep him away from the beach. The two men had evidently had been there for some time, she said.
"They did an amazing job."
The group, assisted by DOC, attempted to guide the whale back out to sea: "We got him out a couple of times, and thought, 'Yes'."
However, it became dark and they decided to get out of the water. The whale came back in eventually, and died.
She was gutted the whale had died, she said.
"Gutted, just as you would [be] when something dies."
A group of people had helped before McPherson had arrived, and they had done a "really great job".
Particularly the two fishermen who helped McPherson while they were in the water.
"They were so calm, and really, really great, which is what you really need to be around whales."
Geraldine-based DOC operations manager Dave Winterburn said there were as many as 20 people who assisted in refloating the whale on Monday evening.
The whale was believed to have died around between 10.30pm and 11pm, he said.
DOC crews had cordoned off the area around the whale, and were monitoring the site until it was removed from the beach by Paul Smith Earthmoving just before lunchtime.
Normally it would be left in situ if it were on isolated coastline, but because it was on a public beach it had to be removed, Winterburn said. It would be buried in a site in Redruth.
Local iwi had given the whale a karakia (prayer) and a blessing before it was removed, Winterburn said.
He did not have details of how many whales beached themselves in the area, but said it was not unusual for them to come ashore.
Most of the time they washed up on remote coastlines, he said.
It was an adult male, and had worn down teeth, so it had appeared to be old and probably died from natural causes, he said.
DOC ranger Alan McDonald said it was normal for whales, including pilot whales and humpbacks, to migrate up and down the Canterbury coastline.
Many people did not realise there was a "great" diversity of marine species in the water off the coast, he said.
"We are grateful for the assistance of the public last night."
Project Jonah general manager Daren Grover said the whale had "obviously" come in for a reason, which could have been the result of illness, injury or old age. "It died very quickly,"
"When an animal of that stature dies, it is heart-wrenching."
The organisation was running a training session in Dunedin on February 25 for anyone interested in assisting future whale strandings.
Statistically it was the time of year when they expected whale strandings, he said.
Source: The Timaru Herald