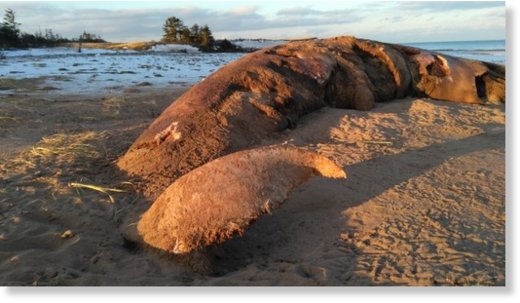 The carcass of a pilot whale was discovered Wednesday on a beach in French River, P.E.I., but given the degree of decomposition, a wildlife officer says there likely isn't a lot of scientific information that can be learned.
"I doubt there is much more [that is] going to be accomplished, other than just burying it," said Chuck Gallison with Forest, Fish and Wildlife.
Found near New London lighthouse
Gallison said the whale, approximately seven metres long, was probably floating in the water for a while before it washed on shore near the New London lighthouse, likely during a recent storm.
When a whale is found on a beach, Gallison said the Department of Fisheries and Oceans (DFO) is contacted first.
But if the whale is dead, as it is in this case, the next step is to contact the Atlantic Veterinary College for scientific study.
Once the college is finished with the specimen, then it is up to Forest, Fish and Wildlife to dispose of the carcass by burying it.
Despite the spectacle of seeing a dead whale washed up on shore, Gallison said it isn't unusual.
"And, it's so funny that we normally get one just before Christmas. It always seems that we get something that washes ashore."