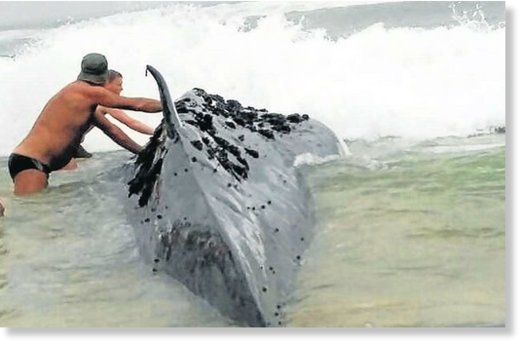 A brave attempt by about 20 beachgoers to save a whale in distress at Seals Beach in Cape St Francis ended disappointingly when it was discovered that the whale was already dead.
The whale had been stranded in shallow water about 100m from the shore.
Residents and holidaymakers had flocked to the beach in droves as word spread about the distressed whale.
Bayworld marine mammal curator Dr Greg Hofmeyr said the whale was probably of the Bryde's species.
As a man, identified only as Ryan, and a friend waded into the surf to try to save the whale by pushing it into deeper water, they were quickly joined by other men, women and children.
But NSRI members who arrived shortly afterwards urged them to get out of the water because it was dangerous. Onlookers on the shore then started chanting "shark, shark, shark", which had the desired effect, with those in the water all out within minutes.
One visibly upset man said they had only been trying to help.
"We just wanted to get this whale back out into the ocean," he said.
But onlooker Julianne Ritchie said the would-be rescuers were being silly as they could easily have drowned.
"You just need that whale to roll on you and you will drown," she said.
Cape St Francis Civic Association chairwoman Trudy Malan said the would-be rescuers had, in fact, been trying to save a dead whale.
"We have anchored it and are pulling it with a bakkie and will bury it tonight," she said.
Hofmeyr said they would take samples of the whale to establish how it had died. "We would have loved to go out to the whale ourselves but have asked someone to collect samples.
"It will be buried [last night] as it is on a very public beach and would attract sharks," Hofmeyr said.
NSRI St Francis Bay station commander Sara Smith said they had sent a crew as soon as they heard about the whale.
"We don't advise the public to get into the water with whales - dead or alive.
"They are magnificent creatures but they are also dangerous," Smith said.
"The animals also feel the distress [of the rescuers] and start to panic. "The animal weighs about 1.6 tons. "The whale could have moved onto a person and they could have drowned.
"We can be grateful the NSRI responded when they did and moved the people out of the water."