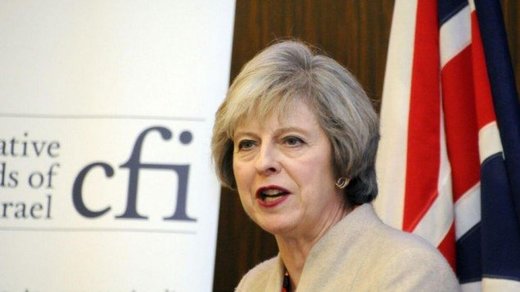 In speech to Conservative Friends of Israel, Theresa May calls Balfour Declaration 'one of the most important letters in history'
In a speech overflowing with praise and support,
Britain's Prime Minister Theresa May on Monday hailed the State of Israel as "a remarkable country" and "a beacon of tolerance,"
said UK ties with Israel were "crucial," promised to raise the bilateral trade relationship to new heights, and described the Balfour Declaration as "one of the most important letters in history."
Comment:
Gah! Pass the sick bag. One wonders what kind of dirt Israel has on May to produce such an obsequious speech. It's reminiscent of the boot-licking twenty-nine standing ovations an equally compromised Congress gave
Netanyahu
.
In an address to her Conservative Party's Friends of Israel,
May also castigated the opposition Labour Party for "turning a blind eye to anti-Semitism.
"
Comment:
To May, anti-Semitism means that Corbyn
calls out
Israel on its crimes. Simply unacceptable!
The speech at a CFI luncheon, which received a standing ovation from the 800 guests, underlined May's ongoing support of Israel, maintaining the approach of successive Conservative prime ministers — and contrasting with the Labour Party of Jeremy Corbyn, a relentless critic of the Jewish state.
As the UK forges "a new role for itself on the world stage," in the wake of its decision to leave the European Union, May said it would seek to be "open, outward-looking, optimistic" and that "Israel will be crucial to us as we do that." This, she said, was "because I believe our two countries have a great deal in common. As the (Israeli) ambassador Mark Regev said, we have common values; we work together, on health, counterterrorism, cybersecurity, technology; and we can help each other achieve our aims."
May firmly rebutted the so-called BDS movement against Israel, declaring: "I couldn't be clearer: The Boycott, Divestment and Sanctions movement is wrong, it is unacceptable, and this party and this government will have no truck with those who subscribe to it."

Comment: Hmm. So the free expression of opinion and the freedom to choose what activities are supported by an individual will now be illegal. What would they do if every British citizen voted with his/her pounds and simply didn't buy Israeli products? Would the government force companies to invest in Israel against the wishes of stockholders? Would it boycott its own companies for supporting BDS? Where would it end?


She said she planned to "take our trading and investing relationship with Israel to the next level," and noted that several ministers would visit Israel in the coming year.
Ahead of 2017's centenary of the Balfour Declaration, which paved the way for the establishment of modern Israel, May said the UK was entering a "special time," and highlighted that the Declaration was signed by a Conservative foreign secretary, Arthur James Balfour. "It is one of the most important letters in history," she declared. "It demonstrates Britain's vital role in creating a homeland for the Jewish people. And it is an anniversary we will be marking with pride."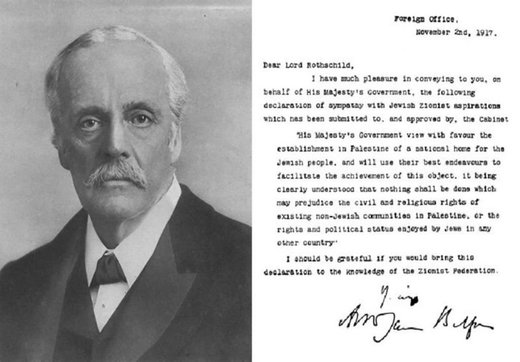 Addressing concerns about anti-Semitism in the UK, the prime minister said it "has no place in politics and no place in this country... It is unacceptable that there is anti-Semitism in this country. It is even worse that incidents are reportedly on the rise. And it is disgusting that these twisted views are being found in British politics."
May announced that the UK was now
adopting
an internationally backed charity's formal definition of anti-Semitism in a "ground-breaking step towards eradicating anti-Semitism." (The International Holocaust Remembrance Alliance's, IHRA, an intergovernmental organization backed by 31 countries, agreed to a definition in May it hopes will become widely adopted globally.)
This move, she said, means that "there will be one definition of anti-Semitism —
in essence, language or behavior that displays hatred towards Jews because they are Jews. And anyone guilty of that will be called out on it."

Comment: Thoughtcrime has arrived in the land of Orwell.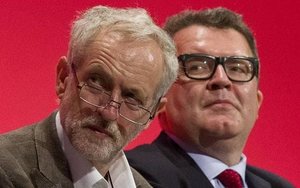 In reference to Labour Party Deputy Leader Tom Watson, who recently sang 'Am Yisrael Hai' (The People of Israel Live) at a Labour Friends of Israel lunch, May said "no amount of karaoke can make up for turning a blind eye to anti-Semitism." She added: "No matter what Labour say — or sing — they cannot ignore what has been happening in their party."
Unlike Corbyn, Watson is a staunch supporter of Israel, and recently visited at the head of a Labour Friends delegation.
May called Israel a "remarkable country," and elaborated: "We have, in Israel, a thriving democracy, a beacon of tolerance, an engine of enterprise, and an example to the rest of the world about how to overcome adversity and defying disadvantages".
Recalling her visit to Israel in 2014 as home secretary, she said that "seeing isn't just believing; it is understanding, acknowledging and appreciating... It is only when you walk through Jerusalem or Tel Aviv that you see a country where people of all religions and sexualities are free and equal in the eyes of the law... It is only when you travel across the country that you realize it is only the size of Wales — and appreciate even more the impact it has on the world."
Comment:
Obviously May never set a foot outside of Tel Aviv. Any traveling she may have done was likely to carefully constructed "
Potemkin villages
."
She added: "And it is only when you witness Israel's vulnerability that you see
the constant danger Israelis face,
as I did during my visit, when the bodies of the murdered teenagers, Naftali Frenkel, Gilad Shaer and Eyal Yifrah, were discovered."

Comment: "Constant dangers"?? May seems to only read pro-Israel media.
May noted with pleasure that CFI has "already taken 34 of the 74 Conservative MPs elected in 2015 to Israel."
Turning to the recent decision to freeze a portion of aid that Britain gives to the Palestinian Authority pending an investigation into allegations that the PA is paying salaries to convicted Palestinian terrorists, May promised that "no British taxpayers' money will be used to make payments to terrorists or their families." Every penny of aid must be "spent in the right places and in the right way."
She said the UK was also looking into allocating greater funds for peaceful coexistence projects in Israel and the Palestinian Territories.
Regarding the peace process, May said the way to achieve a two-state solution is for "the two sides to sit down together, without preconditions."
She also praised the UK's Jewish community: "We should be so proud of the contribution Britain's Jewish community's made to our country. From business to the arts, public services to education, that contribution is exemplary," she said.