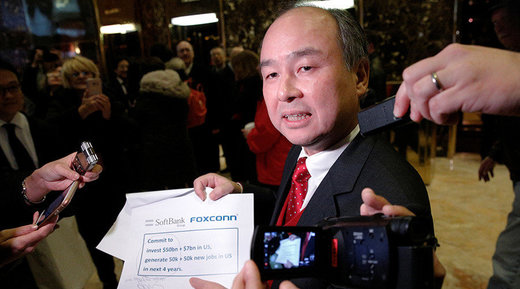 Japanese telecom giant SoftBank is going to invest $50 billion in the United States toward businesses and create 50,000 new jobs during Donald Trump's tenure. The investment is a "celebration" of Trump's "new job", SoftBank's CEO said.
"Ladies and gentlemen, this is Masa from SoftBank of Japan, and he's just agreed to invest $50 billion in the United States and 50,000 jobs,"
the President-elect told reporters in the lobby of Trump Tower, intruding SoftBank Chief Executive Masayoshi Son.
Trump also broke the news on Twitter, adding that Son told him that he would never have done it if Trump had not won the presidential election.
SoftBank, is a Japanese multinational telecommunications and internet corporation, is going to commit $50 billion to "new companies, startup companies in the United States" in the next four years.
"I just came to celebrate his new job. We were talking about it," Son told reporters. "Then I said I would like to celebrate his presidential job and commit, because he would do a lot of deregulation. I said this is great. The United States would become great again."
The Tokyo-based company is already the parent of America's fourth mobile carrier Sprint, holding more than 80 percent of the corporation's shares.
The merger deal was finalized in 2013, when Softbank invested approximately $21.6 billion. Son, then founder, Chairman and CEO of SoftBank was named a Chairman of the Sprint Corporation board of directors.
Son has also had his eye on No. 3 carrier T-Mobile US Inc. since 2014. The theoretical merger deal, which along with Sprint would challenge both AT&T and Verizon, was opposed by the US Federal Communications Commission and Justice Department.
Following Son's Tuesday announcement, shares of both mobile companies gained in mid-afternoon trading.
The Japanese billionaire is also involved in developing a $100 billion technology investment fund with Saudi Arabia, first announced in October. Last week, Son said it was close to tying up the deal, in which the Japanese company would invest $25 billion and Saudi Arabia committed $45 billion.