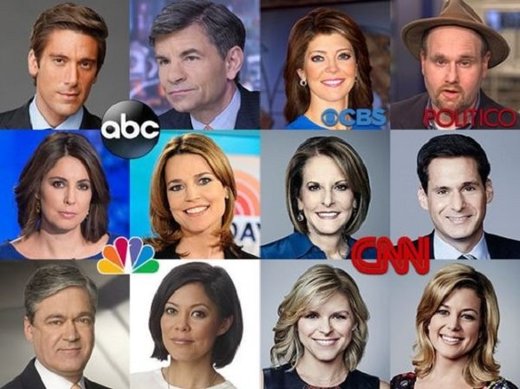 In the weeks following Donald Trump's unexpected victory in last month's election, liberal journalists have launched an all-out assault on "fake news," which some have blamed for the disconnect between political journalists and everyday Americans.
But many of those same journalists seem unable to agree on a consistent definition of what "fake news" is, oftentimes pushing leading conservative and alternative media organizations that provide ideological balance in the public forum under the same "fake news" umbrella alongside websites whose entire purpose is generating viral hoaxes.
Left-leaning BuzzFeed News'
coverage
of "fake news" — which has been subject to
accusations
of misleading the public in service of a narrative — has focused on hoax websites run by teenagers in Macedonia pushing out lies like "Pope Francis endorses Donald Trump."
Other left-leaning news organizations, meanwhile, have lumped in legitimate news organizations alongside objectively fake sources.
A list of "fake news" sites compiled by a liberal college professor — a list that was uncritically accepted and distributed by some liberal journalists — included top right-of-center sites like Independent Journal Review (IJR) and The Blaze alongside
objectively fake sites
. Left-leaning media organizations like the
Los Angeles Times
and
New York magazine
distributed the list to their readers.
One website that the
Washington Post
labeled "fake news" — without providing a single piece of evidence — is
threatening to sue the Post for defamation
, after being included on a similar list.
In an article last summer, liberal
New York Magazine
writer Brian Feldman tried to argue that "conservative news" and "fake news"
are the same thing
.
That some liberal journalists are lumping in legitimate news organizations alongside objectively false sites while at the same time calling for censorship of fake news has lead to concerns that the crackdown on fake news sites — the actual influence of which remains unknown — will be used by liberals to censor their conservative competitors.
Forbes
contributor Frank Miniter
argued
that some liberals are using the "fake news" controversy to invite "government control over First Amendment-protected speech or by asking Facebook and Twitter to become even bigger censors of certain views."
In an interview with conservative site LifeZette, Media Research Center director of media analysis Tim Graham warned, "The danger here is that when liberals try to define 'fake news,' it can be defined as 'fake angles,' as in 'things that should not be explored,' like paying for protesters."
The
sub-headline
for that article read, "Liberals take aim at right-leaning media outlets under the guise of taking down 'fake' news."
After conservative website The Daily Wire was listed as "fake news" without justification, contributor John Nolte
warned
that the "fake news" label is being used by frustrated liberal journalists to censor conservative viewpoints.
"The mainstream media put itself on the 2016 presidential ballot, lost," Nolte wrote, "and now they want to silence competing ideas by smearing, marginalizing and, yes, blacklisting us as spreaders of Fake News."