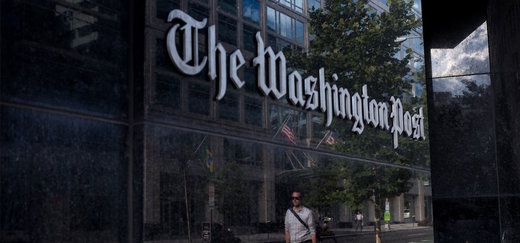 One of the websites
The
Washington Post
labeled "fake news" in a November story demanded a retraction and threatened the paper with a defamation lawsuit in a demand letter Sunday.
A lawyer for
Naked Capitalism
accuses [
The Washington Post
] of
running a debunked list
of "fake news" sites in the "sensational" story compiled by a dubious team of researchers, without substantiating their claims or giving Naked Capitalism a chance to respond to the allegation.
The
Washington Post
's actions constitute defamation, the lawyer writes in the letter
published Monday
.
"You did not provide even a single example of 'fake news' allegedly distributed or promoted by Naked Capitalism or indeed any of the 200 sites on the PropOrNot blacklist," James A. Moody writes. "You provided no discussion or assessment of the credentials or backgrounds of these so-called 'researchers' (Clint Watts, Andrew Weisburd, and J.M. Berger and the 'team' at PropOrNot), and no discussion or analysis of the methodology, protocol or algorithms such 'researchers' may or may not have followed."
Naked Capitalism is a finance and economics
blog
started in December 2006, with a stated goal of "shedding light on the dark and seamy corners of finance."
Moody demands a retraction of the story and a public apology from WaPo in the letter, threatening a suit if the paper does not comply. He lists a series of damages to the site itself, as well as the writers and editors associated with the site; these include "ridicule, emotional distress, loss of reputation, and risk to future career advancement" for writers and editors.
Other mainstream news outlets criticize
The
Washington Post
for running the story.
"The organization's anonymity, which a spokesperson maintained was due to fear of Russian hackers, added a cybersexy mystique," Adrian Chen
wrote in The New Yorker
regarding the
WaPo
story. "But a close look at the report showed that it was a mess."
And Patrick Maines criticized the story
in The Hill
, calling it "perhaps the shoddiest piece of feature writing since
Rolling Stone
published its blatantly false story about a campus rape at the University of Virginia."
"You have made damaging false accusations against Naked Capitalism," Moody concludes in the letter. "Please immediately remove these from the web and provide an equivalent opportunity to respond. Please see the attached concerning your obligation to retain documents and electronically stored information relating to Fake News. I look forward to hearing from you within three business days."