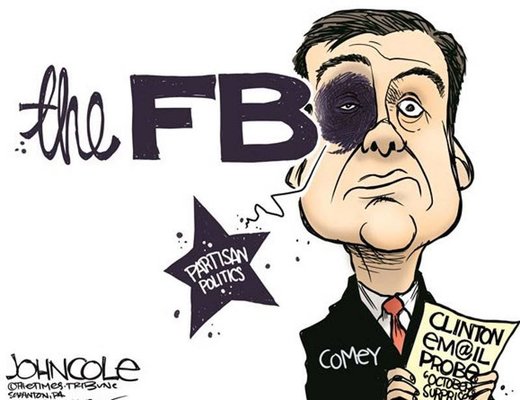 Having exposed the
mutinous divide
between the FBI and The Department of Justice, it appears the drip-drip-drip leaky bucket has turned into a spigot as
The Guardian
cites
several seriously pissed off agents describe the FBI as "Trumplandia."
As The Hill
details
, in a
report
published Thursday, multiple sources within the FBI say that deep antipathy toward Democratic presidential nominee Hillary Clinton and anger that FBI Director James Comey did not bring charges against her this summer have motivated leaks that could damage her presidential campaign.
One agent
told
The Guardian
that many at the bureau view Clinton as the "antichrist" and are supportive of Trump.
The currently serving FBI agent said Clinton is "the antichrist personified to a large swath of FBI personnel," and that "the reason why they're leaking is they're pro-Trump."

"The FBI is Trumpland," said one current agent.
But another FBI source disputed the level of support Trump has within the bureau, according to
The Guardian
.
"There are lots of people who don't think Trump is qualified, but also believe Clinton is corrupt," the source said. "What you hear a lot is that it's a bad choice, between an incompetent and a corrupt politician."
According to the report, the tensions boiled over in July when Comey declined to recommend charges against the Democratic presidential nominee for possibly mishandling classified information through her use of a private email server to conduct government business, according to the FBI agent.
"Many FBI agents were upset at the director, not because he didn't [recommend to] indict, but they believe he threw the FBI under the bus by taking the heat away from DoJ [Department of Justice]," the former bureau official said.
As The Hill
concludes
, there have been further leaks about internal fights within the FBI and other possible investigations since the Comey news broke, all of which has suggested an agency in a public war with itself.