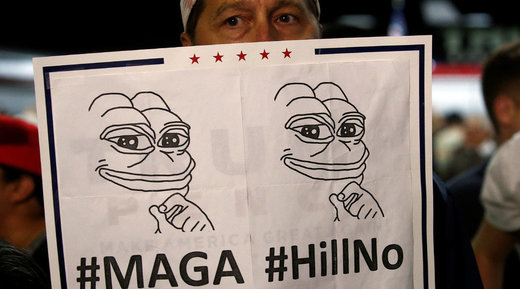 Senate Democratic leader Harry Reid has accused the bureau of hiding "explosive" information about Donald Trump's alleged ties with Russia, which he believes might inflict "critical" damage ahead of the election.
The allegation comes after FBI Director James Comey announced on Friday that a criminal investigation into Hillary Clinton's private email server had been reopened, sending a letter notifying Congress of the email review.
In it Comey revealed the finding of some 650,000 emails which were discovered by the agency in early October on a laptop belonging to ex-Congressman Anthony Weiner and apparently also used by his wife, Clinton's closest aide Huma Abedin.
The unexpected announcement came just 11 days before Americans head to the polls to determine the winner in the race for the White House between Democrat Clinton and Republican Trump.
Concerned by the FBI's move to re-open the investigation that was closed in July, Reid sent a letter to Comey accusing him of double standards and potentially breaking the law.
"Your actions in recent months have demonstrated a disturbing double standard for the treatment of sensitive information, with what appears to be a clear intent to aid one political party over another," Reid wrote on Sunday.
He added that through Comey's "partisan actions, you may have broken the law," namely the Hatch Act, which bars the use of an executive branch position to influence an election.
Furthermore, Reid accused the FBI chief of using a "highly selective approach" in publicizing information, and claimed that the timing of the announcement so close to election date was"intended for the success or failure of a partisan candidate or political group."
While the alleged ties of the Republican candidate with Russia have long been touted by the Clinton camp as one of Trump's greatest sins,
no proof of such a relationship has ever been made public.
Reid however once again claimed it was "clear" to him that a relation exists between Trump and the Russian government, and that Comey is hiding it.

Comment: Reid is completely delusional or just plan lying.


"In my communications with you and other top officials in the national security community, it has become clear that you possess explosive information about close ties and coordination between Donald Trump, his top advisors, and the Russian government - a foreign interest openly hostile to the United States, which Trump praises at every opportunity," Reid stated.
While Kremlin has on numerous occasions denied any links to the Trump camp, the US media continues to pursue the allegations of Moscow's alleged involvement, which Russian President Vladimir Putin this week called "absurd."
"I wrote to you months ago calling for this information to be released to the public...and yet, you continue to resist calls to inform the public of this critical information," the US politician added.
Reid has sent the letter to Comey just before it was revealed that the FBI has reportedly obtained a warrant to dig through hundreds of thousands of newly-discovered emails. In the meantime, the NYT reported that senior Justice Department officials vowed to make all resources available to conduct the investigation as quickly as possible.
Meanwhile Congressman Steve Cohen (D-TN) urged the FBI director to resign, accusing him of restarting Clinton's email probe "apparently before seeing any evidence." In a statement Cohen called Comey's move "plainly premature, careless and unprecedented in its potential impact upon a Presidential election."