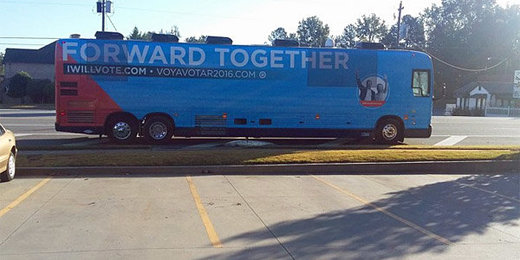 Police in Lawrenceville, Ga., are investigating whether a Democratic National Committee campaign bus illegally dumped human waste there, according to multiple reports.
The incident occurred on Grayson Highway early Tuesday, while the vehicle promoting Democratic presidential nominee
Hillary Clinton
and the rest of the Democratic Party was between campaign stops, CBS 46 News
said
.
CBS 46 News reported that a Lawrenceville businessman took several photos of the "Forward Together" tour bus dumping waste into a storm drain. The man's pictures showed liquid seeping out from underneath the vehicle.
Police responding to the scene found scattered toilet paper and a foul smell.
WSB-TV 2 News
added
that an employee at O'Reilly Auto Parts along Grayson Highway also observed someone from the bus dumping raw sewage nearby.
Gwinnett County hazmat units have since cleaned up the mess, and CBS 46 News reported that the Gwinnett County Stormwater Management and the State Environment Protection Department are now involved in the investigation.
The DNC apologized for the incident on Tuesday.
"This was an honest mistake and we apologize to the Lawrenceville community for any harm we may have caused," a DNC spokesperson told WSB-TV 2 News.
"We were unaware of any possible violations and have already taken corrective action with the charter bus company to prevent this from happening again," they added.
"Furthermore, the DNC will work with the Georgia Department of Natural Resources, as well as local and state officials to determine the best course of corrective action."
Clinton's campaign is pushing hard in traditionally red states such as Georgia with less than a month to go until Election Day.
She hopes to capitalize on Republican voters dissatisfied with
Donald Trump
, their party's presidential nominee.
A new Washington Post/Survey Monkey poll
released
Tuesday found Clinton leading Trump by 4 points in Georgia.