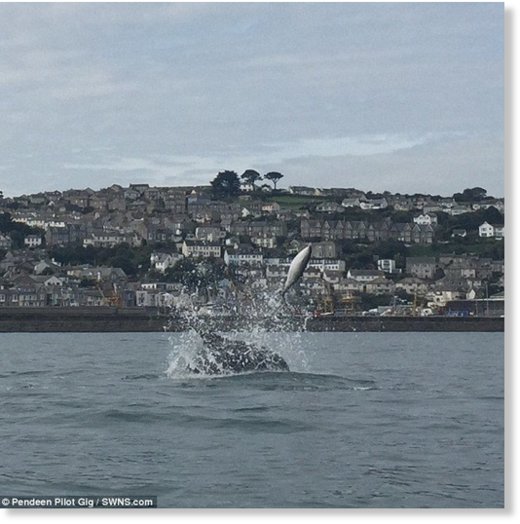 These stunning pictures show a porpoise being killed as it is tossed into the air - by dolphins.
Stunned rowers came across the scene while out on the water for a social Sunday exercise and initially thought they had witnessed a dolphin giving birth.
But after posting their pictures on Facebook, experts said it was bottlenose dolphins attacking a harbour porpoise just off Newlyn Harbour in Cornwall.
And in the images, they later realised that the bottlenose dolphins can be seen pulling the porpoise before throwing it up in the air.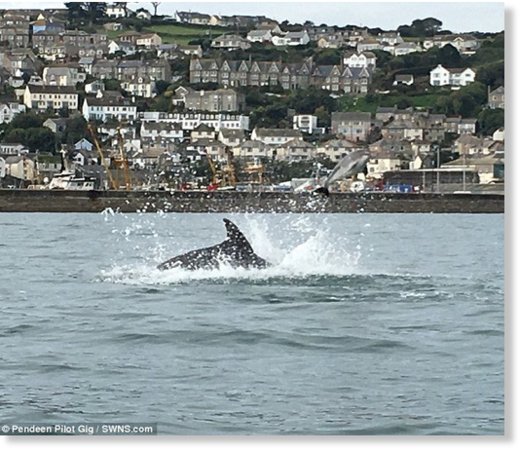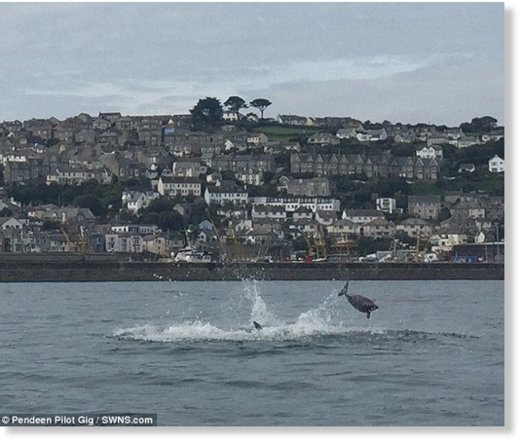 Its carcass was eventually retrieved from the water for a post mortem.
Sue Nevis, chairman of Pendeen Pilot Gig, described how there was a lot of blood in the water when they came across the sight.
Mrs Nevis, 51, of St Ives, Cornwall, said: 'There were six of us out on the water for a Sunday morning social row just off the harbour and at first we thought we had come across a dolphin giving birth.
'There was a lot of blood in the water and you could see a small animal among them.
'We just assumed it was a dolphin giving birth but we soon realised they kept taking it under and flipping it up so that was not the case.
'We found out later when we put it on social media that it was an attack on a harbour porpoise.
'There has been a lot of interest as it is a very rare thing to get on camera.
'The Newlyn lifeboat was able to rescue the porpoise and taken it back in for a post mortem.
'It was an incredible thing to see. We went through a range of emotions. First we thought it was something spectacular of a dolphin being born and when we realised what was happening it was horrible.
'But equally, reflecting back on it now, it was an amazing thing to witness..'We were just outside of Newlyn Harbour when apparently we witnessed an attack by bottlenose dolphins on a harbour porpoise.
'They were pulling it under and throwing it up in the air. It was an amazing sight.'
A spokesman for the Cornish Wildlife Trust said: 'The animal suffered multiple severe injuries as a result of the attack.
'We do have a number of dead porpoise, and more unusually common dolphin, reported to us with injuries resulting from bottlenose dolphin aggression.'
The trust said the reason for the attack was unclear.
They added: 'It is certainly not predation.
Many theories have been put forward, including: Misdirected infanticide (bottlenoses will kill calves), misdirected sexual aggression or play behaviour, and an aggressive response to feed competition are just some.'