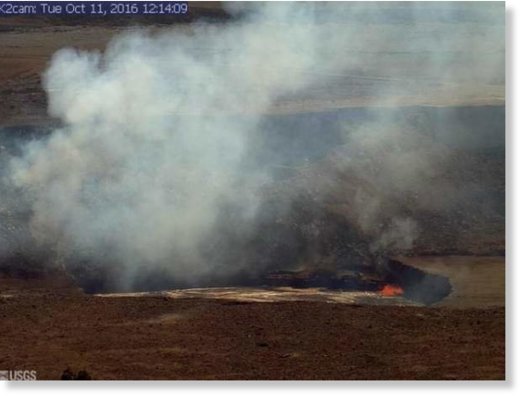 Kilauea Volcano's summit lava lake rose to within 54 feet of the crater rim Tuesday under the watchful eyes of the USGS Hawaiian Volcano Observatory.
The lake level is reminiscent of spring 2015, when the lake eventually overflowed onto the floor of Halema'uma'u Crater, covering 28 acres in fresh lava.
"We haven't had an overflow since then," said HVO Scientist in Charge Tina Neal.
If there's a big rockfall from the side of the crater into the lake, and if winds happen to be coming from the south at that time, some ash could fall on visitors. But that shouldn't be terribly troubling, except to those with significant pre-existing respiratory problems, Neal said.
Why is this happening?
It's unclear why the lake is rising so much, Neal said.
"Over the long-term history of the lake, it's unusual — the only other time it got this high, it overflowed," she said.
What will happen at Pu'u 'O'o?
"If the lake is high, typically we've seen a variety of behaviors down at Pu'u 'O'o," Neal said.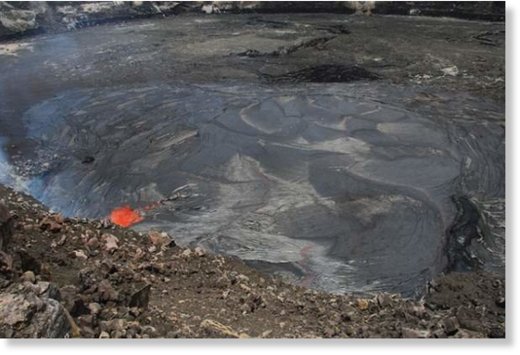 That's one of the things scientists will be studying, watching for connections between the summit lava lake's levels and changes at Pu'u 'O'o.
What mystery would help unlock some of the volcano's secrets, if it were revealed?
Neal wants to learn details of where molten lava is being stored and the short-term rate of magma supply to learn how the lava rises through the volcano.
"We will be watching to see how the lava level endures through time," she said, noting it's clear the summit magma reserve and behavior at Pu'u 'O'o are linked.
"We will hope to understand that connection better."
What do we know from the volcano's history?
In late April to May 2015, the last time the lava lake overflowed onto the Halema'uma'u floor, there was a strong increase in earthquake activity.
"If we start to see a lot of earthquakes in a different part of the volcano, that could be a potential new breakout ... and that could be a potential concern," Neal said.