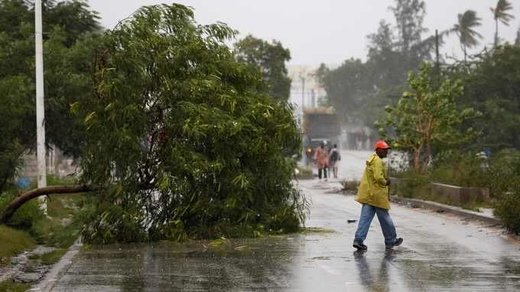 Hurricane Matthew has slammed into the Haitian and Cuban coast,
bringing gusts of up to 175 miles-per-hour as well as dangerous flooding.
At least eleven people have been killed by the Category 4 storm across the Caribbean, including three in Haiti and three children inside a home that collapsed in the Dominican Republican.
The storm was both powerful and slow-moving, a dangerous combination that led to rainfall estimated at 15-25 inches (38-64 cm) in south western Haiti, with more than three feet (0.9 meters) falling in some mountainous areas.
Dennis Feltgen, a meteorologist for the US National Hurricane Centre, said the conditions were extremely dangerous.
"They are getting everything a major hurricane can throw at them," he said.
Many of Haiti's 11 million people live in flimsy homes, and tens of thousands remain in tents or other temporary housing after the massive earthquake in 2010.
With communications out across most of Haiti and a key bridge impassable because of a swollen river, there was no immediate word on the full extent of potential casualties and damage from the storm in the poorest country in the Americas.
"It is too early to do a real assessment, but it has been very serious," Haitian Interior Minister Francois Anick Joseph told Reuters.
Named for the sandy islands off its shore and twice destroyed by hurricanes in the 18th century, the Haitian port town Les Cayes was hit hard by Matthew.
"The situation in Les Cayes is catastrophic, the city is flooded, you have trees lying in different places and you can barely move around, the wind has damaged many houses,"
said Deputy Mayor Marie Claudette Regis Delerme, who fled a house in the town of about 70,000 when the wind ripped the roof off.
Jocelerme Privert, Haiti's interim president, had urged residents to evacuate ahead of the storm's arrival.
"My countrymen, do not be stubborn, do not say 'God is good' and will take care of you," he said. "We have no interest in risking your lives."
Because the eye of the storm passed over largely rural areas, it is impossible to immediately assess the extent of the damage, and the death toll was expected to rise.
After passing over Haiti, Hurricane Matthew hit eastern Cuba, and was expected to linger over the Bahamas for two days before potentially striking Florida and other parts of the south eastern US on Friday and into the weekend.
Preparations were already under way in the United States as coastal dwellers prepared to flee the approaching monster storm.
South Carolina said it would start evacuating 1.1 million people from its coast starting on Wednesday and try to get them at least 100 miles) inland. Georgia declared a state of emergency in 13 counties.