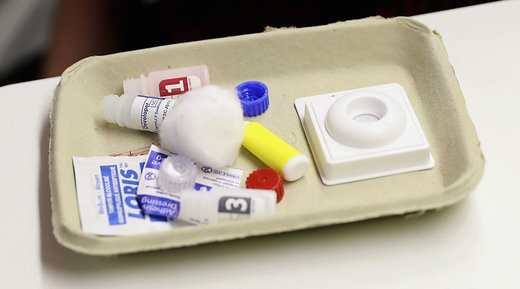 A British man is on the brink of becoming the first person in the world to be cured of HIV with the virus no longer present in his system following a clinical trial.
"It would be great if a cure has happened. My last blood test was a couple of weeks ago and there is no detectable virus," the unnamed 44-year-old patient told
The Times
, marking what could be a hopeful future for the 37 million people infected worldwide.
The new treatment, designed by scientists from five UK universities, uses a "kick and kill" method to eradicate the deadly virus.
HIV is difficult to combat as it hides from the immune system in dormant cells where it remains undetected. Current treatments, known as antiretroviral therapies (ART), slow the rate at which HIV multiplies in the body but cannot identify and eradicate it.
Under the new treatment the virus is tricked into revealing itself, allowing the body's immune system to identify and attack it.
In the first stage of the treatment a vaccine helps the body recognise the HIV-infected cells before a new drug called Vorinostat activates dormant cells where the virus has been hiding and multiplying. The immune system then eradicates them.
Professor Sarah Fidler, a consultant physician at Imperial College London, one of the universities involved in the treatment, said the "therapy is specifically designed to clear the body of all HIV viruses, including dormant ones."
Fidler warned that the treatment, even if successful, is still a long way away from being made available and that patients should continue with their current treatment.

Comment: There is no money to be made in curing a disease. The big bucks come from treatment.


"We will continue with medical tests for the next five years and at the moment we are not recommending stopping Art but in the future, depending on the test results, we may explore this," she said.
The patient, a social worker in London, is the first of 50 people trialling the treatment to complete it. Speaking to The Times he said he took part in the trial to "help others as well as myself."
"It would be a massive achievement if, after all these years, something is found to cure people of this disease. The fact that I was a part of that would be incredible," he said.
More than 100,000 people in Britain have HIV, with an estimated 17 percent of those unaware they're carrying the virus, according to
The Telegraph
.