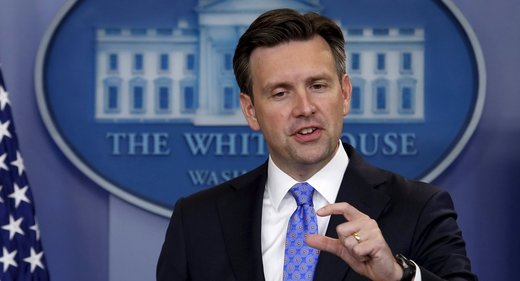 Continuous violence in Syria provokes extremism and could undermine Russia's security, White House Press Secretary Josh Earnest told reporters on Monday.
The press secretary noted that the situation in Syria continues to worsen despite efforts
by the international community
to put an end to the conflict.

Comment: Earnest is not speaking in earnest. The international community did not and does not want to put an end to the conflict - Russia and Syria do. The international community wants the Russians and Syrians to stop killing the international community's terrorists, so those same terrorists can topple Assad's government just like they did in Libya.


"It [violence] also poses a risk to Russia back home because we know that this kind of violence and chaos...only fuels extremism in Syria and around the world," Earnest said in a briefing.

Comment: Yes, Earnest knows from experience. Lots and lots of experience.


The Russian authorities, Earnest claimed, will have to invest additional resources in their efforts in Syria as the country draws itself deeper into the sectarian conflict. "Russia will have to account for their actions
in the context of the consequences they are likely to provoke
," Earnest stated.

Comment: Translation: "Stop killing our terrorists, otherwise we will send them into Russia."


Syria has been mired in civil war since 2011, with government forces loyal to President Bashar Assad fighting a number of opposition factions and extremist groups, such as Daesh and Jabhat Fatah al Sham, previously known as al-Nusra Front. Both are designated as terrorist organizations and banned in Russia as well as many other countries.
Russia launched airstrikes against terrorist positions in Syria on September 30, 2015 at the request of President Assad. Russian military aviation had conducted more than 9,000 sorties until March 2016, helping Damascus turn the tide of war and launch offensives in key regions of the country.
In March, Russian President Vladimir Putin made a decision to withdraw much of the Russian forces from Syria after determining they successfully fulfilled their tasks there.