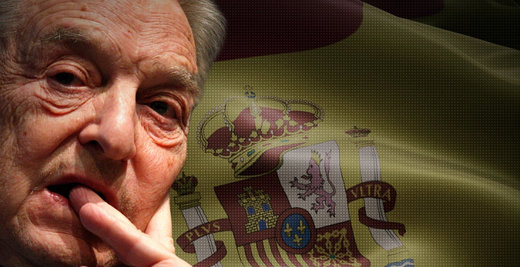 A website peddling conspiracy theories about Donald Trump and Vladimir Putin was launched Wednesday by individuals with ties to left-wing billionaire George Soros.
The site, www.putintrump.org, claims that "Donald Trump's lavish praise of Russian president Vladimir Putin, his criticism of our strategic NATO alliance, and his campaign staff's close financial ties to pro-Russian politicians in Ukraine put our national security interests at risk."
According to GotNews, Soros-tied PR firm Ripple Strategies sent out an internal memo from co-founder Glenn Turner Tuesday evening announcing the site's launch. It described it as a site "that rigorously details and analyzes the disturbing, unprecedented ties between Donald Trump and Vladimir Putin."
Far more disturbing for others, however, should be the unprecedented lengths to which the Western globalists and their allies on the Left will go to sink Donald Trump's campaign.
Ripple Strategies lists Soros' Open Society Foundations as a client, but a deeper dig reveals that the putintrump.org's ties to George Soros go far further than just its PR firm.
According to the site, it was launched by entrepreneur Rob Glaser. As the Capital Research Center noted in 2014, Glaser "is an ally of George Soros" and "also a leading member of Soros's Democracy Alliance, an invitation-only donors' collaborative for rich left-wingers."
Glaser co-founded RealNetworks (originally ProgressiveNetworks) with David Halperin, who now works for the Soros-backed Center for American Progress, running its "Generation Progress" campus outreach group.
The site's editorial director is Bill Buzenberg, the former head of Center for Public Integrity, an investigative journalism nonprofit funded in part by Soros' Open Society Foundations (not to mention the Ford and Rockefeller foundations).
The site says it is paid for by Progress for America PAC, which according to OpenSecrets.org was founded this summer — and appears to have been created with the sole purpose of funding putintrump.org.
The website is astonishingly alarmist, and even features the hammer and sickle prominently — an ironic touch considering only four years ago Democrats were attacking Republicans for failing to realize the Cold War is over.
Soros and his globalist cronies would have visitors believe that Trump's realistic approach to Russia and desire for cooperation in the fight against militant Islam is more of a threat to national security than the Western globalist elite's continued anti-Russian aggression and saber-rattling in Eastern Europe.