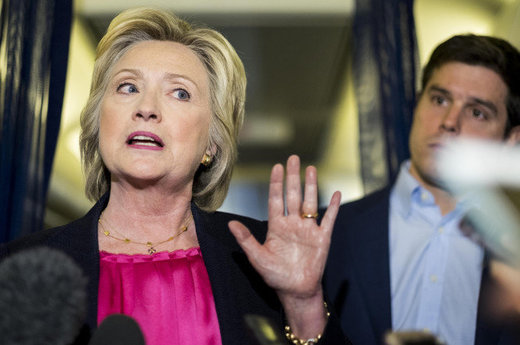 Hillary Clinton won't be taking a neurocognitive test, and releasing the results to the public — telling a reporter "
there's no need for that
,"
even after collapsing
as she was leaving a 9/11 memorial event last week in Manhattan.
Clinton made the comment, suggesting she will not be releasing any further medical information this presidential campaign, in an interview Wednesday with Florida's WFTS ABC Action News.
"Some doctors have said, because of your age, as well as your opponent's age, that you could be at higher risk for dementia or even Alzheimer's and have suggested that you take some neurocognitive test," ABC affiliate reporter Sarina Fazina said to Clinton. "Would you be willing to do that?"
"I'm very sorry I got pneumonia," Clinton replied,
letting out a hearty laugh
. "I'm very glad that antibiotics took care of it. And that's behind us now. I've met the standard that everybody running for president has met in terms of releasing information about my health."

Comment: Translation: "I'm sick as hell, but I really get a kick out of lying to you and the whole world."


She added, "I have to say, my opponent has not met that standard. So I am very happy that we have put out all the information that there is — that reflects on my health. And I am physically, mentally healthy and fit to be president of the United States."

Comment: Since when did being a diseased psychopath qualify someone as "fit" to be president? Oh, wait, never mind...


Asked specifically whether she'd submit to testing, Clinton said no.
"There's no need for that.
The information is very clear
. And the information, as I said, meets the standards that every other person running for president has ever had to meet, and I'm happy that we've met and even exceeded them in certain ways," she told the local Florida reporter.

Comment: Information = lies.


In the interview, Clinton also took a stand against terrorism — saying she believes in keeping America safe.
"I am a very staunch supporter of security here at home," Clinton said of the recent domestic terror attacks, "going after ISIS and terrorists around the world, defeating and destroying them. And I have a track record of actually doing that. Standing up and making the hard decisions in the White House Situation Room."

Comment: Clinton has a history of arming jihadis and sending them to countries run by people she doesn't like, where they flourish, torture, rape and murder. And she'll keep doing exactly that if (s)elected.