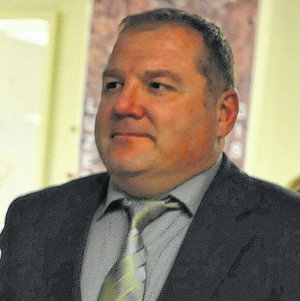 A Pennsylvania school board Monday fired a high school teacher who allegedly helped a co-worker engage in sex with a student at school.
The Wilkes-Barre Area School Board terminated Coughlin High School math and industrial arts teacher Brian Hampel, 44, for allegedly serving as a lookout for Stephen Stahl, who was convicted in January 2015 of having sex with a 16-year-old student in 2004,
The Citizen's Voice
reports.
Hampel, who had taught in the district since 1998 and ended with an annual salary of $84,001, has denied any knowledge of Stahl's relationship with the girl.
Accusations against Hampel first surfaced in testimony during Stahl's trial last year, and school officials later contracted with Scranton attorney Frank Tunis to conduct an investigation into whether school employees were aware of Stahl's crimes. Hampel's termination is the result of that investigation,
WTAE
reports.
Stahl, 49, was the dean of students and wrestling coach at Coughlin High School when he was suspended in February 2014 and fired a month later, the
Times-Leader
reports.
According to the news site:
Police had said he and the victim, then a 10th-grade student, began a sexual relationship that spanned more than a year, beginning in March 2004 and ending sometime prior to November 2005, when she told Stahl the relationship had to end.



The victim, who came forward nearly a decade after the relationship occurred, had told police that Stahl asked for her phone number and that the two later engaged in sexual intercourse at several locations, including a classroom closet during school hours.
Stahl eventually served
six months
in the county prison after he was convicted of corruption of minors and he's since sued the school district and the Pennsylvania State Education Association teachers union because he alleges they did not provide him a proper termination hearing.
Stahl alleges the union did not represent him at the hearing or provide legal services and the district breached his contract by holding the hearing without him or a representative. Stahl is also attempting to recover property he alleges district employees sold at auction, including a leather jacket and "antique outboard motor," according to the
Times-Leader
. Stahl contends the auctioned items are worth more than $4,000 and is seeking a total of $137,884 in damages.
Union officials filed a motion to dismiss the case because they allege Stahl did not include numerous required documents in his lawsuit, and did not properly serve the lawsuit on the union, the news site reports.
Former Coughlin principal Frank Michaels is also facing charges in connection to the case.
Numerous witnesses told police Michaels was well aware of Stahl's inappropriate sexual relationship with his teen student and warned the teacher to stop, but Michaels testified last year at Stahl's trial that he had no knowledge of the affair.
Michaels now faces a trail on a charge of perjury and child endangerment for allegedly lying on the stand.