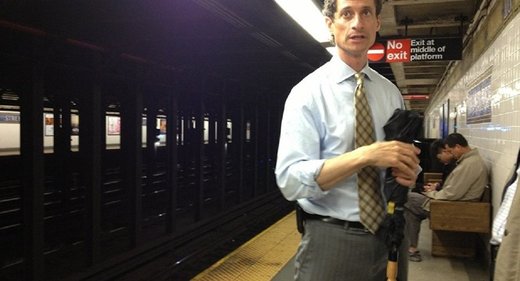 Former Congressman Anthony Weiner has deleted his Twitter account after his wife, Huma Abedin, announced their separation as details of yet another of her husband's sordid sexting exchanges surfaced, including a photo detailing both his crotch and his toddler.
Abedin, Hillary Clinton's closest aide, announced in a statement on Monday that she is separating from Weiner, after photos and details of a sexually-charged conversation with a busty brunette went viral on Sunday evening. Among the leak was a suggestive photo of the former representative's crotch, which also showed the couple's 5-year-old son sleeping next to him.
"Someone just climbed into my bed," Weiner said in the accompanying message.
"Really?" the woman asked.
This latest incident marks the third time that Weiner has been caught well, with his pants down.
"After long and painful consideration and work on my marriage, I have made the decision to separate from my husband," Abedin said in the statement. "Anthony and I remain devoted to doing what is best for our son, who is the light of our life. During this difficult time, I ask for respect for our privacy."
Republican dark-horse presidential candidate Donald Trump jumped in anyways, however, stating that Weiner's inability to resist his attachment to sex is a national security issue.
"Huma is making a very wise decision," Trump said in a statement. "I know Anthony Weiner well, and she will be far better off without him."
"I only worry for the country in that Hillary Clinton was careless and negligent in allowing Weiner to have such close proximity to highly classified information," he continued. "Who knows what he learned and who he told? It's just another example of Hillary Clinton's bad judgment. It is possible that our country and its security have been greatly compromised by this."
Abedin has worked for Clinton since the 1990s, during Bill Clinton's presidency. She has stayed by the former First Lady's side ever since.
In 2011, just one year after Weiner and Abedin were married, the representative tweeted an illicit photo meant for another woman, getting himself kicked out of Congress.
Then, in 2013, just after the birth of their son and during his mayoral campaign, another round of damning sexts emerged. This time he was speaking to the now-pornstar Sydney Leathers and hilariously referring to himself as "Carlos Danger."
In 2014, Weiner tumescently tweeted again, and was caught favoriting a selfie of a scantily clad woman with the caption, "indulge your sexual fantasies by having an affair."
The personal sexual scandals were chronicled in a now-popular documentary called Weiner, in which Abedin's contempt for her likely soon-to-be-ex-husband was impossible to miss.