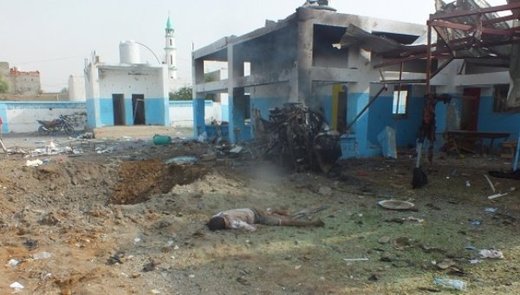 Monday's bombing by the Saudi-led coalition of yet another Médecins Sans Frontières (
MSF
, Doctors Without Borders) hospital in Yemen, which killed 11 people and wounded at least 19 more, earned a
rare admonition of the Saudis
by the U.S. State Department.
"Of course, we condemn the attack," State Department spokeswoman Elizabeth Trudeau
uncharacteristically
asserted
.
As per policy for all the humanitarian organization's hospitals, MSF "
repeatedly
" shared the Abs Hospital's precise GPS coordinates with all parties embroiled in the conflict — including, of course, the Saudi-led coalition.
Why the U.S. chose this particular MSF hospital
bombing
to step outside its usual deferral of reporters to the Saudi government to answer for egregious and deadly military blunders remains unclear.
Of course, welcome though this rebuke might be, the
U.S. continues to supply the coalition with
billions
in weapons and supplies, as well as providing refueling for Saudi jets.
As
noted by
the Intercept, Trudeau again emphasized "U.S. officials regularly engage with Saudi officials" concerning civilian deaths — an
apparently fruitless dialogue, given the U.S.-backed coalition's astonishing penchant for bombing civilian homes, schools, markets, factories, and, with alarming frequency, medical facilities.
"We've also encouraged them to do their utmost to protect entities protected by international law, such as hospitals," Trudeau nevertheless reiterated.
"In October," Alex Emmons
wrote for the Intercept
, "the coalition bombed an
MSF-supported
hospital in Yemen's Haydan district, destroying the only emergency medical facility serving 200,000 people ... In December, airstrikes destroyed an
MSF clinic in Taiz
while doctors were treating the wounded from a nearby Saudi airstrike in a park. And in January, the coalition
destroyed
a hospital in Razeh district, killing five people — and killing an ambulance driver working for MSF later that month."
Emmons duly notes the bombings of MSF-supported health care facilities likely receive greater fury in the media due to the organization's being based in Western-allied France.
But a
report
from the International Committee of the Red Cross (ICRC) in November 2015 said the
U.S.-backed, Saudi Arabia-led coalition bombed nearly
100
hospitals — only from March through early November
— in a harrowing trend it
attested
"disrespects the neutrality of health facilities."
This August, alone, the coalition obliterated a children's
school
, killing 10 children and nine adults; a
potato chip factory
, killing 14; and a critical bridge, which Oxfam
called
"the main supply route for Sanaa" — leaving swaths of the already starving populace in jeopardy of being unable to attain food.
"We have seen those reports, and if the bridge was deliberately struck by coalition forces, we would find this completely unacceptable," Trudeau continued. "The bridge was critical for the delivery of humanitarian assistance, destruction will further complicate efforts to provide assistance to the people of Yemen."
Clarifying afterward, she said, "The bridge — you saw me condemn that today."
While certainly stronger language than her original phraseology,
any condemnation without decisive action or swift consequences backing it will have little, if any, effect
on the either criminally reckless or purposefully illegal bombing of civilian sites by the coalition.
A joint U.N.
resolution
in May authored by
80 nations
has apparently proved equally as ineffectual as a verbal condemnation would seem, despite the vehement demand the U.S., Saudi Arabia, and their allies end "impunity for those responsible and respect for international law on the part of all warring parties."
To imagine an actual resolution calling for an end to committing literal war crimes as anything but tellingly absurd would be a grievously dismissing the frequency with which such bombings occur.
Following the near-decimation of the particular hospital the State Department did condemn, MSF emergency program manager for Yemen, Teresa Sancristóval, said in a
statement
, emphasis added:
"This is the
fourth attack against an MSF facility in less than 12 months
. Once again, today we witness the tragic consequences of the bombing of a hospital. Once again, a fully functional hospital full of patients and MSF national and international staff members was bombed in a war that has shown no respect for medical facilities or patients.
"Even with a United Nations resolution calling for an end to attacks on medical facilities and with the high-level declarations of commitment to International Humanitarian Law,
nothing seems to be done to make parties involved in the conflict in Yemen respect medical staff and patients."
She added, "Without action, these public gestures are meaningless for today's victims. Either intentional or as an act of negligence, this is unacceptable."
Asked whether the State Department condemning the Abs bombing would consequent a reduction in military aid to Saudi Arabia — in other words, whether tangible repercussions would result — Trudeau said dismissively, "I have nothing to preview on that."