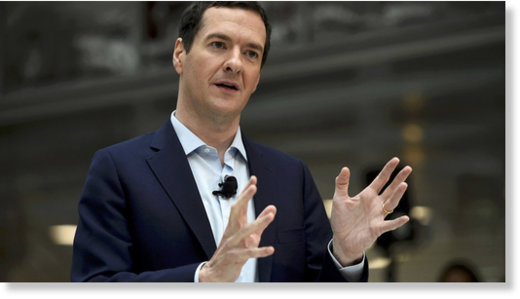 Austerity peddler and former chancellor George Osborne has been cleared to join the public speaker agency used by the likes of Tony Blair and George W. Bush to rake in hundreds of thousands of dollars.
The Advisory Committee on Business Appointments formally signed off on Osborne joining the Washington Speakers Bureau on Tuesday.
Past speakers have included Iraq invasion-era PM Tony Blair, his successor Gordon Brown and high-profile Americans such as former President George W. Bush and ex-Secretary of State Colin Powell. Former Australian PM Tony Abbott is also on the agency's books.
Fees are not officially disclosed but are rumored to be as high as $300,000 for former heads of state or prime ministers.
Osborne, who was relegated to the back benches by newly installed PM Theresa May, is expected to work for the agency for two days a week and lecture on "the current political environment."
The official nod was given on the grounds he would not take up the role for three months after leaving cabinet and "personally approve any engagement to ensure that there is no conflict of interest."
A profile on the agency in the
Washington Post
claims "fees are never public and are often exaggerated by speakers, while bookers play them down."
"According to industry insiders, big names can get more than $50,000 a speech, while former presidents and the market's top attractions can hit the $200,000-to-$300,000 mark. Traditionally, bureaus get a 20 percent cut," the Post claims.
Osborne is one of a number of high-profile figures to be dropped from cabinet under the reign of May. It was felt the Tory MP and close ally of ex-PM David Cameron was not in keeping with her renewed vision for the party and the country.