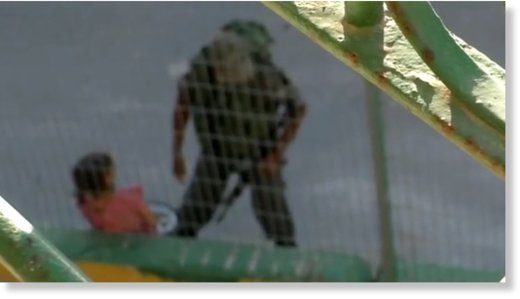 Two armed Israeli officers appeared to bully an 8-year-old Palestinian girl by confiscating her bike while she was playing with her siblings in the West Bank city of Hebron.
The video, which was secretly filmed on July 25 by a volunteer for Israeli human rights group
B'tselem
, shows Anwar Burqan playing on her bike as she is approached by the two officers.
The first armed officer is seen running up to the girl on Al-Ibrahimi Street, which leads to the Tomb of the Patriarchs and the Ibrahimi Mosque - both are holy sites for Jews and Muslims.
He holds down her bike with his foot as he shouts for her to go home in time for his colleague to arrive with a large assault rifle in his hand, B'tselem reports. The little girl then runs away screaming and crying.
Moments later, the pair are seen throwing the bike into a bush before walking away.
The first officer was suspended from duty on Tuesday following the release of the video, according to the
Times of Israel
.
Head of the Border Police, Yaakov Shabtai said the officer in question was "immediately suspended," after an initial investigation. "The Border Guard sees this incident with severity and regrets it," a spokesperson said in another statement.
Al-Ibrahimi Street was separated by a controversial fence in 2012, leaving the main road cut off from the rough pedestrian path on the other side. The main, paved part of the street is usually reserved for Israeli settlers.
Hebron is home to some 170,000 Palestinians and has been illegally occupied by the settlers since 1967. In 1997, the city was divided into H1, which falls under Palestinian control, while H2, located in the center of Hebron remains controlled by Israel.