One person drowned and more than 100 others had to be rescued after heavy rains caused "severe" damage in Maryland this weekend.
Six inches of rain fell in Ellicott City in three hours — causing "tremendous devastation," Howard County Executive Allan Kittleman said Sunday morning. He said in a statement that 120 people had to be rescued during the flooding.
But one woman in the city was killed when she was swept away by the flood waters, said Howard County press secretary Andy Barth. It's unclear whether she was in a car at the time.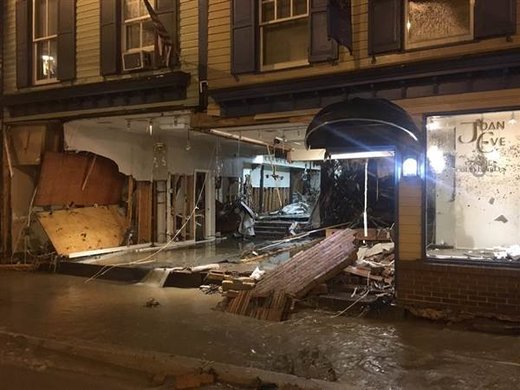 "The devastation is quite remarkable. I've done this a lot and I've never seen it like this," Barth said.
Photos showed damaged buildings — some stripped of windows and doors — and collapsed roadways in Ellicott, a town of around 65,000 in Howard County, about 12 miles west of Baltimore.
The town's historic Main Street area suffered some of the worst damage, Kittleman said. Howard County Fire & EMS said Sunday morning that the street would remain closed until further notice, and people should avoid the area due to gas leaks and downed power lines.
"Many buildings have significant damage, a lot of cars were damaged — there were cars floating down there, as I heard," Kittleman told the NBC affiliate
WBAL
.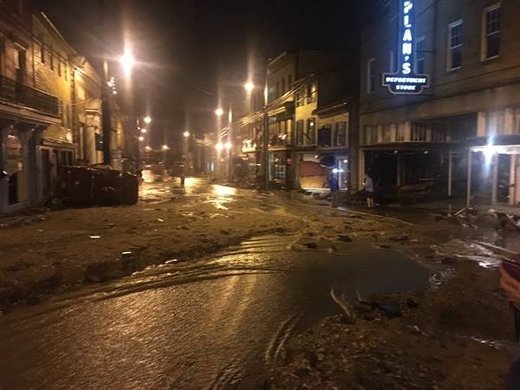 Just before midnight, Kittleman declared a state of emergency for Howard County. The county opened a community center as a shelter for people who were displaced.
Gov. Larry Hogan and Lt. Gov. Boyd Rutherford traveled to Howard County Sunday to survey the damage.
"It looks like a movie disaster scene," Rutherford said.
The National Weather Service warned of a flash flood emergency in Howard County and areas southwest of Baltimore and said "severe flooding" was occurring Saturday night.
There was also flooding in Baltimore, where the Fire Department said one person who was trapped was rescued and three others were helped out of standing water.