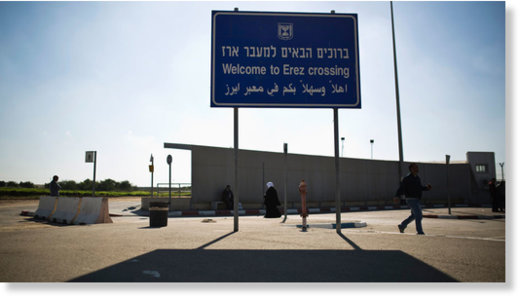 Israel has frozen mail services with the Gaza Strip, claiming the move was aimed at preventing banned items that are used by terrorists in attacks on the Jewish state from being smuggled into the Palestinian territory.
The decision to halt postal services was made "in light of multiple attempts to smuggle banned items... used for terrorism against Israel," Yoav Mordechai, coordinator of Israeli government's activities in the Palestinian territories, said Thursday as quoted by Haaretz.
Earlier, Israeli security officials confiscated drones, scuba diving equipment and weapons components said to be sent into the Gaza strip via the Erez crossing.
Director of the Palestinian side of the Erez crossing, Abdul Rahim Abu Hatab, confirmed to Middle East Monitor the he had been informed by the Israeli side of the decision to freeze mail service.
Israel said there's recently been an increase in attempts to smuggle civilian equipment that the terrorists may also use for their purposes. There were already 315 such incidents recorded since the start of the year, compared to just five smuggling attempts in 2015.
Drones, antennae, optical equipment and other surveillance equipment was confiscated en route to fictitious addresses or non-existent people in the Gaza strip.
Haaretz
paper talked to Gaza residents about the postal freeze, who called the move "a continuation of Israel's policy of collective punishment."
The mail "made life a lot easier for people," who used its services to acquire "shoes or watches or items you can't find in the strip," one Palestinian man said.
The decision by the Israeli authorities "will only intensify the anger and the despair" among Palestinians, he said.
Mail services with Gaza resumed only a year ago. It was put on hold by Israel from 2007-2015 due to the Hamas radical group becoming the governing authority in the strip.