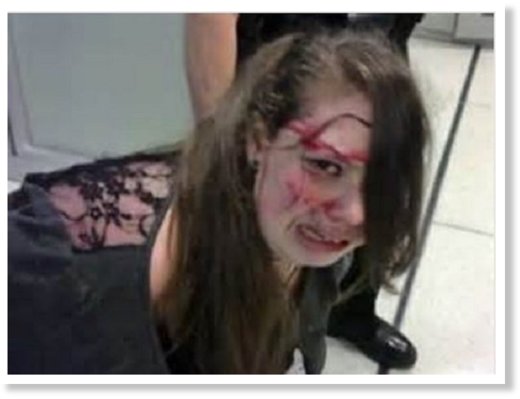 Shocking and horrific stories from around the USA this week as the police everywhere are becoming unhinged and violent. The above photograph comes from Memphis, TN, where 19-year-old Hannah Cohen was attempting to travel home through the airport when she was
violently attacked by TSA and airport police
.
Hannah was returning home after successfully completely treatment for a brain tumor from St Jude's Hospital.
After setting off a metal detector, she was pulled aside for further screening, which is where things went downhill. Being blind in one eye, partially deaf and somewhat paralyzed, Hannah was confused and scared as she had no idea what was happening to her. When her mother tried to explain, common sense was left by the wayside as protocol indicated Hannah was 'dangerous.'
Resisting their attempts at manhandling, Hannah was thrust to the ground when she hit her head. The above picture is the result. She was then arrested and spent a night in jail before being released without charges. This entire scene could have been avoided with just a little discretion and two-drops of common sense, but apparently that's not something Memphis TSA and airport police are trained in.
In Los Angeles, CA, it's potentially dangerous to
visit the county fair
. Christian Aguilar was beaten and tased after local police there arrested his parents and then attacked him for filming the arrest. Another man who recorded the incident was also arrested for filming, and that video is available here:
The police report was rife with lies
, which became apparent during cross-examination of the officers as compared to the videos. Thankfully, the criminal trial against Christian was dismissed before the defense even began their case.
In Reading, PA, Officer Jesus Santiago-DeJesus
was cleared of all charge
s this week after he assaulted a woman and
lied about everything
that happened. He pulled Marcelina Cintron-Garcia and her boyfriend aside after they pulled into a parking spot along the street. While interacting with the officer, Marcelina pulled out her phone and began to record the interaction and that's when the officer became violent. He ripped her phone out of her hands, smashed on the ground and then punched her repeatedly.
She then spent 3 nights in jail, facing charges like: assaulting an officer, harassment, resisting arrest. Her boyfriend - who doesn't appear to commit any crimes - was charged as well: disorderly conduct and resisting arrest. Eventually, these charges were dropped and a list of charges against Officer Santiago-DeJesus were issued: falsely implicated someone in a crime, destruction of personal property and evidence, and official oppression. Unfortunately,
he was cleared of all wrong-doing and none of the other officers involved face any penalties either
.
The story goes on:
Santiago-DeJesus, who joined the Reading Police Department on July 23, 2012, made news last summer after another traffic stop in Reading led to a low-speed pursuit and his shooting of two teenagers on a dead-end street in neighboring Lower Alsace Township, according to WFMZ. An investigation by the district attorney's office revealed that the officer was justified in the shooting. He was also cleared by the department to return to the force after it was determined that Santiago-DeJesus' actions were within RPD policy.
He shoots two kids, probably lies about it, and gets away with murder. It's all within policy. He was following proper procedure. Doesn't that just make your blood boil?
What about cops raping women? It happens frequently: cops pull someone over and
want to get into her pants
'smell marijuana.' Results? Some poor innocent civilian gets strip searched and has their body cavities invaded by probing, gloved fingers.
This story
comes from Texas and follows that exact pattern. It was performed outside, at a gas station in complete violation of protocol. Thankfully, the deputies involved were put on desk duty and face multiple charges, but as to whether or not they'll actually face jail time for their criminal behavior - not likely.
Isolated incident? Hardly.
This woman was returning from Mexico when she was 'randomly selected' for further screening.
When all was said and done she had undergone an observed bowel movement, a vaginal and rectal exam and was severely traumatized.
She won a 1.1-million-dollar settlement, but the trauma of the event can never be undone. Another man won a 1.6-million-dollar settlement when he was suspected of carrying drugs in his rectum and multiple searches revealed he didn't have any. Did I mention that taxpayers will be footing those bills?
In Chicago, IL,
a Muslim woman was tackled, arrested and detained
because she was running to make her train.
She was strip-searched, video recorded, and men were allowed to witness her strip-search.
In the video below, we see the cops approach and grab her while she's heading up some stairs - her crime? Appearing Muslim in public?
This man was violently arrested
after police followed him into a parking lot and he repeatedly asked for names, badge numbers and supervisors to show up. He was assaulted at gunpoint and suffered a sprained knee and some torn ligaments. They also smashed his phone in an attempt to destroy the video he had recorded. You can see that video below.
Instead of treating him for his injuries, police took him to a hospital for a drug test. He refused to pee for them until they threatened him with a catheter and forcible removal of his urine, at which point he conceded. They also damaged his car. According to
The Bay State Examiner
:
While it may seem strange that a police officer would file a demonstrably false report that they know will be contradicted by video evidence, it makes some sense in this case because Lawrence police officers smashed Cepeda's phone. If the smashing of his phone had destroyed the video—it didn't—the police report would be left practically uncontestable. Plus it's Lawrence, where the police chief has already suggested that he doesn't care what misconduct a video shows. This isn't the first time we have broken news about cops in that city attacking people who record them; the last time, Chief James Fitzpatrick lied outright about the incident despite the video.

In this instance, instead of getting to see a supervisor like Cepeda requested, the motorist was surrounded by police officers with guns drawn. (It is dangerous for police to stand in a circle around a vehicle and point their weapons toward the center because this puts the officers in each other's lines of fire). They tried, and failed, to smash their way into his car while yelling contradictory instructions. One officer (with gun out) can be heard shouting, "Keep your hands in the air," while another cop tells Cepeda to roll down his window. When Cepeda turned on his car so he could roll down his window, the police report claims that the cops thought he was attempting to flee and were afraid for officer safety—which is often grounds for killing unarmed motorists with impunity. The report also includes a description about how the officers couldn't tell what he was doing with one of his hands, an excuse that in other cases has been used to justify the decision to use lethal force.
Even in custody, police will use violence when they don't have to.
This video shows cops in Pasco County, FL, shoot a mentally ill schizophrenic Army vet in the groin with a shotgun.



The round is a Nova round, which is basically a flash-bang. It explodes with a bright flash and a loud noise, meant to distract, and should never be shot at someone. While combative and unstable, the man clearly posed no threat to the officers and his genitals were visible through the door slot which the officer shot through. It seems as if the officer firing the weapon was just fed up and frustrated and pulled the trigger out of spite, knowing full well the damage he was about to inflict.
Did I mention his crime was a parole violation? No officers were disciplined, and the victim was blamed.
Wyoming cops are now acting as roaming death squads who
kill people at funerals
. Scott Ramirez was attending his father's funeral when undercover officers executed him without warning. Ostensibly they were there to execute an arrest warrant but it seems they had other intentions. The funeral was just finishing while folks were offering condolences to Scott when shots rang out. Seconds later, Scott was on the ground bleeding and folks were screaming and running, the city placed on 'lockdown.' Scott was unarmed, and there was no reason to kill him, but apparently this murder was planned well in advance.