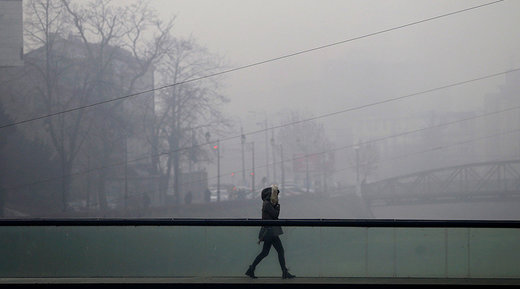 In a first of its kind analysis, the New York University School of Medicine has
linked
16,000 premature births to air pollution, resulting in costs overrunning $4 billion a year for medical treatment.
Researchers noted that air pollution is known to increase toxic chemicals in the blood and cause immune system stress, which can weaken the placenta surrounding the fetus and lead to premature birth. There are over 3.9 million live births in the contiguous US states every year, and of those, 11.4 percent are born premature. Pregnancy normally last about 40 weeks while premature babies are born before 37 weeks.
"Air pollution comes with a tremendous cost, not only in terms of human life, but also in terms of the associated economic burden to society,"
said lead study author Dr. Leonardo Trasande, an environmental health researcher at New York University School of Medicine in New York City, in a
released statement
. The study was published online in the journal Environmental Health Perspectives.
For the
study
, Trasande and his colleagues used data from two US federal agencies, the Environmental Protection Agency and the Centers for Disease Control and Prevention, as well as the non-profit Institute of Medicine. They calculated the average air pollution exposure and the number of premature births per county. They then tabulated the long-term health implications of premature birth on early death, decreased IQ, work absences due to frequent hospitalizations and overall poor health.
Premature babies can suffer from neurological problems such as behavioral issues, cerebral palsy or autism. They can also have respiratory problems leading to asthma and dysplasia as well as the added burden of suffering from intestinal problems and infections
.
All those potential adverse health effects create an
"associated economic burden to society"
through medical costs in the first few years of life such as in the newborn intensive care unit or in a drop in economic productivity due to the child's likelihood of development disabilities and lost cognitive potential during their lifetime. The study found that for 16,000 premature babies, a prolonged stay in hospital costs $760 million, and can cost society $3.57 billion in lost economic productivity.
The highest incidences of premature births were found in urban counties, primarily in Southern California and the eastern US, particularly Chicago, New York and Pennsylvania, with peak numbers in the Ohio River Valley.
"It is also important to note that this burden is preventable,"
said Trasande,
"and can be reduced by limiting emissions from automobiles and coal-fired power plants."
Trasande said the research team plans to share their findings with policymakers in an effort to help shape regulations designed to reduce air pollution and protect public health.