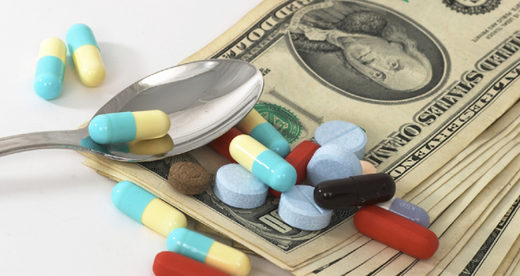 There is one important factor which makes the United States (US) a very lucrative market for Big Pharma - inflated drug prices. Big pharma generates about $250 billion+ per year in sales of prescription drugs in the United States alone. This isn't just because of the sheer amount of people in the US population who take prescription medications for some ailment or condition. What makes the US one of the most lucrative markets for Big Pharma is that
drug companies are charging up to 10 times as much for pharmaceuticals when compared to other developed countries.
Below is a chart offering data from the
2013 Comparative Price Report
published by the International Federation of Health Plans.
The examples in the chart above are common drugs that are used for illnesses that affect millions. For example,
depression and anxiety
affect about 18% of US adults; 1.5 million suffer from rheumatoid arthritis; and gastrointestinal diseases such as acid reflux affect nearly 60 percent of the US adult population in any given year.
To add a little more depth into how these prices can affect a person, consider that the average monthly income in the US is around $4000.
So why is drug price gouging such a serious problem across the US pharmaceutical industry? US laws, the current state of medical insurance, Medicare, and drug research are all parts of the problem, leaving the little to no oversight in how much drug makers can charge for their drugs.
"As opposed to other countries, American laws actually prevent the government from restraining drug prices. Federal law even prevents the single largest drug buyer - Medicare - from negotiating drug prices. This is a perfect example of how Big Pharma has successfully manipulated laws in such a way that they can operate completely unrestrained in the US, under the flimsy argument that high prices and profits are required in order to fund costly research to develop potentially groundbreaking drugs to treat our ever-proliferating ills." Source
Should US taxpayers and patients carry the responsibility of subsidizing the R&D efforts of drugs that are developed in the US, but then sold around the world?
The scheme becomes even more elaborate when you consider that pharmaceutical companies give rebates to hospitals to create incentive to dispense certain drugs, and as a result the hospital can then make greater profits. Medicare bases its payments on an "average base price" of a drug, even though different hospitals buy the drugs at varying prices and benefit from rebate discounts. Hospitals can make as much as 50 percent or more profit on what Medicare pays for the drug!
As a result, Medicare and, therefore, all US taxpayers contribute handsomely to profits of hospitals and drug companies. Recently investor
Martin Shkreli made headlines when he purchased the rights to an HIV drug
and raised the price of it by hundreds of percent, showing that investors are using this market to prey on both taxpayers and people who are in need of treatment.
Is there a reasonable justification for putting this financial burden on the US public?
Sources
Annual U.S. Healthcare Spending Hits $3.8 Trillion
This chart reveals the inhumanity of US drug prices compared to other countries
Why are Americans Getting So Little in Return for the Highest Medical Bills on the Planet?
About the Author
Alex Pietrowski
is an artist and writer concerned with preserving good health and the basic freedom to enjoy a healthy lifestyle. He is a staff writer for WakingTimes.com and
Offgrid Outpost
, a provider of
storable food
and
emergency kits
. Alex is an avid student of Yoga and life.