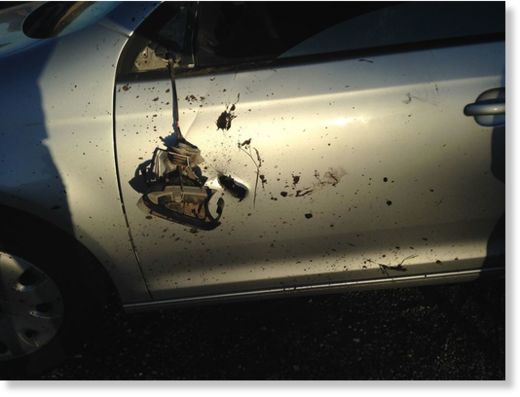 A Colorado hunter said an elk got its revenge by ramming his family's car and leaving a large hole in the driver's side door.
Loveland resident Matt Dixon, who spends about 30 days a year hunting elk, said he was driving in Estes Park with his wife, Melissa, and their two young children when a bull elk targeted their car.
"He came up from here and just started charging at us as he came," Dixon told KDVR-TV.
Dixon said the car was about 40 yards away from the elk when it started to charge.
"We were trying to keep our distance. You know, we don't want to teach the kids like, 'Oh you go up to them and take pictures. They're wild animals,'" Dixon said.
Melissa Dixon posted pictures of the damage to the car's driver's side door on Facebook.
"So much for a relaxing night of dinner and elk watching in Estes! We were charged by a bull elk!" she wrote.
The Dixons said the elk's antlers hit a support beam inside the door that prevented it from stabbing all the way into the car.