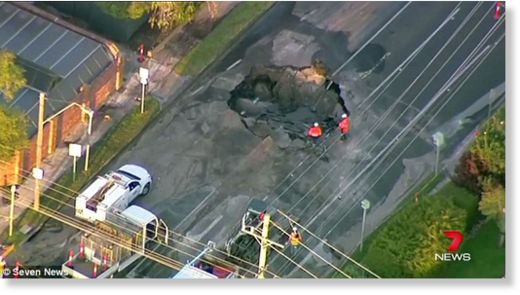 A burst water main has opened up a huge sinkhole in the middle of a busy road.
The dangerous hole has swallowed three lanes on Glen Eira Road in Caulfield North, Melbourne, and has stopped traffic in both directions.
VicRoads received a report about the hole at around 2.18am on Tuesday, sending South East Water to repair the damage.
Although the once bustling street was left deserted, a popular café named Glovers Station, took the lull in customers, as a welcomed surprise.
'We're always so busy, so sometimes it's good to have a quiet day,' said the café's owner Jimmy Marinis, in an interview with
The Age.
'It's been quiet today, that's for sure. Glen Eira Road is usually like a freeway this time of day,' continued Mr Marinis.
The gaping hole had opened 500 metres from the café and as a result staff were sent home early.
'Once I heard about it, I said to staff, 'OK guys, let's start folding boxes,' said Mr Marinis.
Crews worked tirelessly to reinstate the road as quickly as possible and reached the site in the early hours of the morning.
The road was closed between Kooyong Road and Orrong Road and a VicRoads Spokesperson told
The Sydney Morning Herald:
'Traffic was moving as well as could be expected given three lanes had been compromised.'
'The northbound traffic on Kooyong road heading into the city was a 'little heavy,' continued the spokesperson.
In a post from the early warning network drivers were advised to take alternative routes which were provided through Glenhuntly and Balaclava road.
The burst water main has since been repaired and water supply restored to the area, but work will continue through peak hour till the late afternoon, reported
The Age.
This comes after a car, a caravan and a camping trailer were swallowed by a giant sinkhole that opened up at a camping ground near Queensland's Rainbow beach on the weekend.