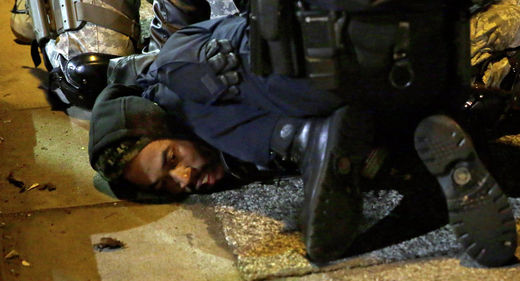 According to an online page which is regularly updated by the Washington Post, 705 people have been killed by police in the US this year, including 65 unarmed victims and 181 who were showing signs of mental illness.
However, now US statistics reveal that people are fighting back as the number of police killed in the line of duty indicates. Many experts claim that ordinary Americans have waged a full-scale war against law enforcement.
According to recently released statistics, some 51 police officers were killed across the US in 2014, almost double the number of murdered cops in 2013, when 27 cases were reported.
Many experts agree that in the wake of the Ferguson protests and similar incidents sparked by allegedly race-linked police misconduct, US citizens have become a "greater danger" for police than ever before; some even believe there is ongoing "war on cops" in the country, NPR wrote.
Devon Anderson, the District Attorney of Harris County in Texas, told NPR that after the wave of protests against police brutality, trust in cops was undermined and now America's law enforcers are in dire need of popular support.
"There are a few bad apples in every profession. That does not mean there should be open warfare declared on law enforcement," he stated.
Comment:
It has become very obvious that a few bad apples spoil the entire barrel, and that 'law enforcement officers' are waging an 'undeclared war' on society:
Dan Patrick, the Lieutenant Governor of Texas, confirmed that "warfare" has erupted between society and law enforcement in an interview with Texas Standard radio station. He pointed out that many citizens treat policemen in a "negative" way nowadays, adding that this tendency needs to be changed, despite the multiple reports of police felonies.
However, there are contradicting points of view.
Edward Conlon, a retired detective, claimed there is neither "epidemic of violence by police" in the US nor a "war on cops" initiated by residents.
"It's not even half right that cops are at war with black America, and it's not even half right that there's a war on cops, in any big or broad sense," he said.
Seth Stoughton, a former policeman, called allegations of undeclared war between residents and law enforcement "nonsense," explaining murder rates look quite normal if observed over a longer timeframe. For example, the number of people who were murdered in New York City in 1985 was 1,384; by last year that figure had fallen to 333 (it's worth mentioning that incarceration rates have risen significantly).
But nonetheless, Stoughton acknowledged that police work remains "certainly" dangerous in the US and nowadays many cops are attacked by people simply for being cops.