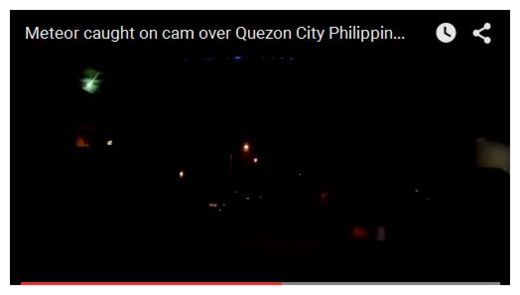 Joje Vitug, a resident of Barangay Pasong Tamo in Quezon City, uploaded a video of a
meteor lighting up the night skies.
"I was about to reach my house last night when I saw a meteor that seemed to explode in mid air and illuminated the sky. I paused before going to my garage because I was not sure of what I saw," Vitug said.
He was lucky that his vehicle's dashboard camera was able to capture the scene, which he considers a "once-in-a-lifetime event."
Vitug sent his video to ABS-CBN News on Thu, Sep 17.
According to state weather bureau PAGASA, the appearance of the meteor is normal.
In an interview on dzMM, Philippine Atmospheric, Geophysical and Astronomical Services Administration (PAGASA) Astronomical and Publication Chief Jose Mendoza IV explained that there is nothing unusual with the meteor's appearance.
Mendoza explained in Filipno: "Actually, there are a lot of meteors passing through. In other countries, they even get really huge ones. It's normal. When the sky is clear, we can see them, especially when there's a meteor shower."
He added, "But what happened last night was probably a sporadic meteor. It must have been considerably large since it was easily seen."
He said the public do not have anything to worry about.
Source:
ABS-CBNnews.com