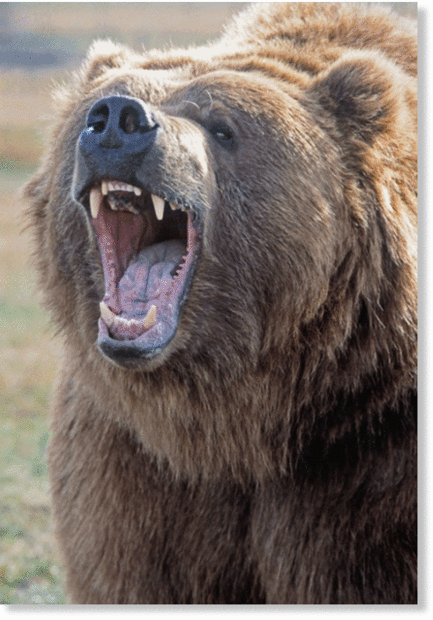 A 31-year-old man attacked by a protective mother grizzly bear in the Ghost wilderness area on the weekend is expected to recover from his injuries, according to an Alberta government spokesman.
Around 8 p.m. on Saturday, two men on off-highway vehicles were injured when they crested a hill in the Ghost public land use zone and surprised a mother bear with two cubs.
"We believe they were grizzly bears," said Brendan Cox, a spokesman for Alberta Fish and Wildlife. "It was a defensive reaction by the mother bear to protect her cubs.
"It is unfortunate that one of these people was seriously injured before they were able to use the bear spray."
The grizzly retreated when the men used a form of pepper spray that can be used to deter aggressive bears in the wilderness.
The 31-year-old man, who suffered bites and lacerations to his hands, arms and feet, was airlifted by STARS air ambulance to Foothills Hospital in serious but stable condition. Another man, in his early 50s, suffered some minor injuries, but he didn't require transport to a hospital.
Cox said the man in hospital is recovering after surgery.
"We have managed to speak to the survivors," he said Monday afternoon, noting it has been determined that the bear was acting naturally and simply trying to defend its cubs. "She is not a predatory threat to humans.
"Officers will be leaving this bear alone."
The area, which is about 60 kilometres northwest of Cochrane near Hunter Valley Road, will remain closed to protect both the bears and the public.
"It's going to remain closed throughout the long weekend," said Cox, acknowledging it's a popular area for off-road enthusiasts. "We want to give the bear the space it needs in the area."
He said that they also want to ensure public safety.
Kim Titchener, owner of Bear Safety & More, said it's always surprising to hear about a bear attacking someone on an ATV or dirt bike.
"You assume you are making lots of noise with the machinery," she said. "But those sounds can also become commonplace, especially in McLean Creek and in the Ghost, where people are doing it all of the time.
"It's also possible you are going so fast that you come around the corner so quickly and then you have a surprise encounter," she said.
This is the second bear attack in the area this summer.
In July, an Alberta Environment and Parks employee sustained minor injuries after he walked around a corner and surprised a bear in the Jumpingpound area of Kananaskis Country. He was also able to grab his spray and use it, which made the animal run away.
Titchener, who works with companies to train employees in wildlife safety, said it's good to hear more and more people are carrying bear spray.
"This is the second attack in the Kananaskis region in the past two months,"
she said. "In both cases, people were carrying bear spray and used the bear spray.
"It's likely the bear spray saved their lives."
Recent research by Stephen Herrero, a renowned expert and professor emeritus at the University of Calgary, showed bear spray was almost always effective at stopping an attack.