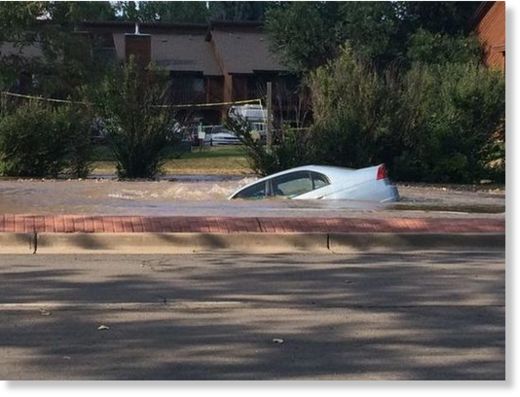 Crews are working to repair a sinkhole that opened up on a Boulder street, swallowing a car.
The car driving near Folsom Street and Iris Avenue in Boulder was almost completely swallowed up by a sinkhole Sunday evening.
The 53-year-old Boulder woman in the car got out of her Honda Civic before it sank into the four-by-six foot deep hole caused by a water main break.
Traffic in the area will be shut down until at least 3 a.m. Monday as crews work to fix the roadway before rush hour. Boulder says drivers should expect delay throughout the day as the westbound lanes will remain closed indefinitely for repairs.
"Not something you normally see on your way home from work," said Troy Ginley, a Boulder resident.
Ginely and other viewers snapped photos of a car almost completely covered in water after it fell into a sinkhole.
The woman said she saw the water in the road but drove through it anyway. Her car suddenly stopped.
"She got out very quickly, it was very fortunate she did not fall into the hole with the car," said Patrick Von Keyserling, the Boulder communication director.
It took about two minutes for the car to sink in the hole.
The woman was uninjured but her car needed to be towed out.
Water for residents in the area was not shut down.