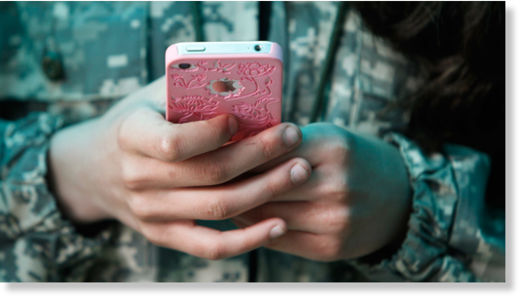 A program launched with a $1 million state contract will provide teachers, administrators, and staff in all Arkansas public schools with a "panic button" to quickly notify 911 of an emergency, whether it's a fire or an active shooter situation.
The buttons will be supplied by Rave Mobile Safety, thanks to a $950,000 contract the company signed with the Arkansas Department of Emergency Management earlier this summer, the Associated Press reported. The program launch was announced Tuesday, in accordance with a
law passed
earlier this year requiring the state to have such an emergency alert system in place by September 1.
The Rave Panic Button smartphone application has a five-button interface that allows faculty and staff to quickly inform 911, first responders, and school personnel of the type of emergency and the caller's exact location, the company said
in a statement
. First responders will automatically have access to the school's floor plans, the locations of emergency exits, and key evacuation procedures as well.
"It is truly regrettable that we live in a time when schools and other locations have to worry about and prepare for various crisis situations, particularly active shooters, where the number of incidents have increased year over year," state Representative Scott Baltz, the bill's lead sponsor, said in the Rave statement.
"This powerful solution, which we hope to never have to use for an active shooter, will allow our response teams to save precious minutes, which translates to lives," Baltz continued. "Rave Panic Button enables us to better protect our most precious assets - our students and teachers."
David Maxwell, state emergency management director, told AP that each school superintendent will decide which faculty and staff will have access to the app.
"This product will allow rapid communication from the school to 911 and first responders to better facilitate the reaction time, better facilitate knowledge of the facility, where things are happening, that sort of thing," Maxwell said.
The contract is for one year, but the Arkansas Legislature could continue funding the program beyond that, he noted.
Rave's app will integrate with the Smart911 system that is already in use in Arkansas, Baltz told KARK. After the initial year, the annual cost of the program should drop by $100,000, to $850,000. He plans to pay for the app using state funds from an Education Appropriation bill that has yet to be passed.
"That's a reasonable price, it comes out to less than two dollars for each student a year," he said. "There would also be training provided and an in-state IT assistance to help administer the technology."
Baltz acknowledged that there is not a lot of time for schools to implement the application by September 1, and told KARK that some school districts have questioned the timeline.
"It's going to be a rush and I truly understand that ‒ but our teacher and children's safety is a big factor to me," Baltz said.
Schools aren't the only ones with concerns about the program, Pulaski County Sheriff's Office Captain Carl Minden said. He told KARK that law enforcement would likely want assurances from Rave that there were processes in place to prevent abuse, and "phantom" or prank 911 calls.
"The idea itself sounds great, but the catch is going to be in implementation," Minden said. "There needs to be adequate training and adequate safeguards to make sure the technology isn't accessible to those who don't need it."
The potential weaknesses of such a system were exposed by an incident when investigators were looking into the time it took law enforcement officials to respond to a gunman opening fire at Los Angeles International Airport in November 2013. The probe found that at least two of the 12 panic buttons located in Terminal 3, where the incident took place,
were broken
. In the immediate aftermath of the incident, at least one Transportation Security Administration agent told airport security officials they had pressed one of the working buttons, although there was no evidence to support the claim.
Despite the potential drawbacks, some law enforcement groups have already come out in favor of the program.
"We are very pleased to have this additional level of protection for our schools. Every single day emergency calls are made from the school facilities for medical, fire or general safety issues," Chief Montie Sims, president of the Arkansas Association of Police Chiefs, said in the Rave statement. "Now all response units can have more information, enhanced communication and ultimately arrive on scene faster to help the students or faculty members in need."
Rave's director of industry solutions, Noah Reiter, believes that the company's partnership with Arkansas is the first such statewide deployment of panic-button technology.
Arkansas has about 450,000 students in kindergarten through 12th grade attending some 1,000 facilities.