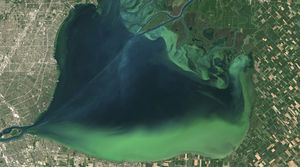 A huge patch of blooming toxic algae stretching from California to Alaska appears to be both denser and vaster than scientists predicted. It poisons seafood, and may trigger short-term memory loss in humans.
Concerns were voiced after the latest conclusions from research by the National Oceanic and Atmospheric Administration were made public.
The microscopic algae, brown in color, now forms a ribbon, of nearly 65km in width and 200 meters deep, and is located in the unusually warm waters of the Pacific.
The unprecedented bloom is affecting local seafood businesses and the tourist industry: On Tuesday, shellfish producers off the coast of Washington doubled the territory which had to be shut off for fishing after toxic components were discovered in crab meat.
The seafood in the contaminated areas contains domoic acid, neurotoxic, and highly harmful to people, fish and marine life in general.
In people it can cause amnesic shellfish poisoning, which in severe cases results in the loss of short-term memory, among other things.
Algal bloom is a regular phenomenon. However,
this year has seen a much larger and longer algae invasion, with high levels of neurotoxins released by the algae into the ocean.
"
There's no question that we're seeing more algal blooms more often, in more places, when they do occur, they're lasting longer and often over greater geographical areas.
We're seeing more events than documented decades ago
," Pat Glibert, professor at Horn Point Laboratory, University of Maryland Center for Environmental Science, told AP.
His concerns were echoed by a fellow scientist Vera Trainer, a research oceanographer with the Northwest Fisheries Science Center in Seattle.
She said that the current bloom is the
worst she's seen in 20 years of studying them
,
with most usually disappearing after several weeks. However, this most recent one has grown for months.
There is a threat to the marine ecosystem due to the expanding algae ribbon, scientists say.
"We think it's just sitting and lingering out there. It's farther offshore, but it's still there," Anthony Odell, a University of Washington research analyst and participant in the team monitoring the harmful algae, told AP.
The exact cause of the bloom has not been determined, but
scientists suspect that there is a big patch of water in the Pacific that is 3 degrees warmer than the surrounding waters contributing to its growth
. The region has been dubbed 'the blob'.
Researching the mysterious algae invasion is ongoing: The scientists' vessel is currently between Newport, Oregon and Seattle, and the ship is set to head to Vancouver Island, finishing the expedition in September.
There is another vessel that is now monitoring Alaska waters.