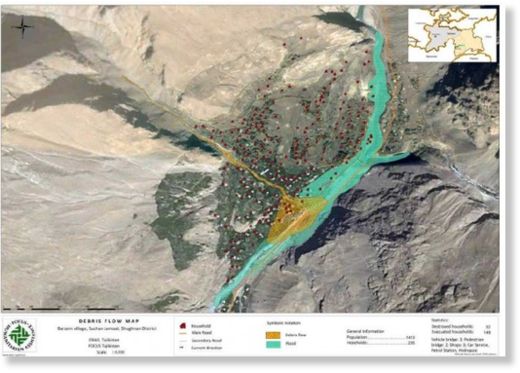 The rapid melting of snow and glaciers due to higher temperatures between 01 and 15 July 2015 have triggered mudflows in the Shugnan District in the eastern region of Gorno-Badakhshan, Tajikistan.
The mudflows have caused damage to buildings and infrastructure in local villages. The debris has also blocked the flow of the Gund river, creating an artificial lake which has flooded areas along the river.
As of 18 July 2015, the UN's Rapid Emergency Assessment and Coordination Team (REACT) in Tajikistan reports that at least 56 houses have been destroyed and 10,000 people forced to evacuate to safer sites. Schools, stores, roads and electricity lines have also been damaged and 80% of the communities in the region have been without electricity. No casualties have been reported.
There is a risk of the lake overflowing or breaking through its temporary blockage. REACT say that this could cause devastating floods in Khorog and nearby communities, including three districts of Khatlon Oblast.