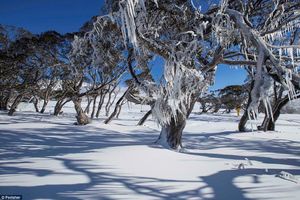 Australia is experiencing the coldest start to winter in forty years after parts of the country were buried under a foot of snow.
Temperatures plunged as low as minus nine degrees Celsius as the alpine resorts of Perisher and Thredbo in New South Wales disappeared underneath a blanket of snow on Monday evening.
Average winter temperatures across New South Wales are typically between 14 and 16 degrees Celsius.
It got as cold as 6.1 degrees Celsius in the City of Sydney, making it the chilliest morning the region has seen since 1987.
Falls Creek in Victoria also received 20cm of snow overnight and Mount Buller recorded8cm, while Melbourne got off to its coldest morning in almost 40 years.
While the UK, in comparison, was bathed in sunshine today as highs of more than 21 degrees Celsius were recorded this morning in Lincolnshire.
The freezing weather is forcing many Australians to get creative with ways to beat the cold, from leaving the oven on to heat the house, to warming their beds with hairdryers.
Most of the homes in the typically temperate country do not have insulation and so are not equipped to keep the warmth in and cold out during icy spells, accordant to Claire Cunliffe, Marketing Manager at Knauf Insulation Australia and New Zealand.
The situation is so extreme that one in ten Australians have had to move their families into a warmer part of the house to sleep - even into one room - to beat the chill during frosty nights,
a new survey by Thinkinsulation revealed.
It was minus seven degrees at ski resort Perisher on Monday morning, while Thredbo recorded temperatures of minus eight, according to the Bureau of Meteorology.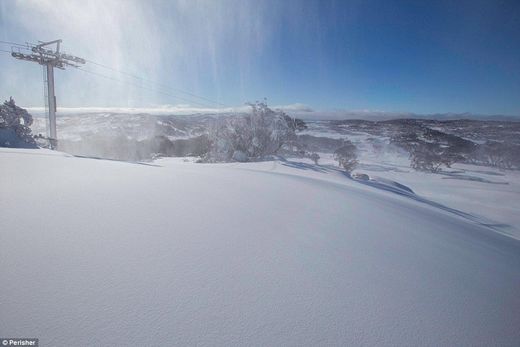 Low temperatures are expected to continue throughout the week, with snow predicted to fall in both areas from Wednesday to Friday.
But the cold snap is good news for the country's skiers who are expected to flock to the Snowy Mountains to take advantage of the early snowfall.
Both Perisher and Thredbo revealed they will now open on Friday given the forecast conditions for the rest of the week